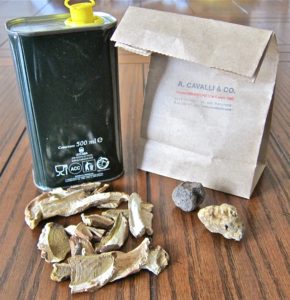 I love this time of the year in Italia. You get to enjoy black truffles shaved over pici, a rustic home-made spaghetti, or white truffles shaved atop fresh fettucine, or either, shaved atop golden veal scallopine. You may not believe it but black or white truffles shaved on top of eggs fried in olive oil is heavenly, too. I don't know what excites me more, the truffle aroma that fills my head as the dish arrives or the first bite.
We're in luck this year. Santo of North Beach's Cavalli Cafe is selling white and black truffles from Piemonte and Umbria along with fragrant and meaty porcini just dried in the Tuscan sun, and an extra virgin olive oil from a small mill pressed 2 weeks ago. Quite a score for Santo. Bravo!
As of today these truffles are five days out of the ground. Santo's prices are very reasonable and the quality is excellent. Treat yourself. It's the holidays – eat some fresh truffles while you can.
The truffles will last about a week wrapped in paper towel and stored in a paper bag in the fridge. If you don't use them all you can freeze what's left in butter. Just scoop out what you need. That should last you until next year's harvest.
But don't delay because the just-pressed extra virgin olive oil sold out in a day. I'll save my tasting notes until the next shipment arrives. It ain't cheap, but you'll want to get some of this fantastic, fresh finishing oil before the next shipment sells out, too. I'll let you know when it arrives.
Here is a white truffle pasta recipe and a black truffle pasta recipe to get you started. I suggest you either make fresh pasta or use a very good Italian dried durum wheat pasta. If you use my fresh pasta recipe just pass the pasta sheets through the fettucine or tagliatelle cutters on the pasta machine, or tightly roll up the pasta sheets and cut them in 1/2 inch ribbons. Buon appetito!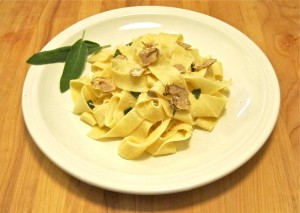 [amd-recipeseo-recipe:81]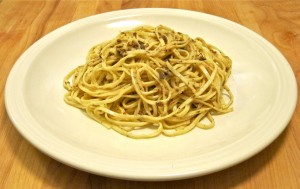 [amd-recipeseo-recipe:83]