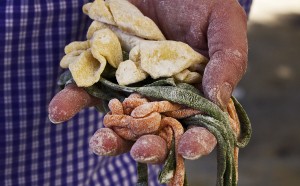 There will be a video of the day soon, but until then, I just wanted to report what a beautiful day it was, and how much fun.
I enjoyed making pastas the colors of the Italian flag. (OK, I admit, the red bell pepper variety came out a little orange – so it was the Irish flag. Sue me.)
I also met chefs from some of my favorite North Beach restaurants (future dinner event details to come) and tasted some wonderful samples.
This is an annual event, and next year will be the third, so be sure to come out and be reminded of the authentic side of North Beach, and the ways in which it is complemented by Chinatown.