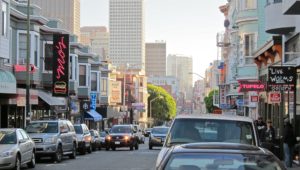 The starry skies and crisp nights in North Beach have been dazzling lately. The holiday spirit is in full bloom as neighbors and Village visitors leisurely stroll the sidewalks stopping in a store or market here, enjoying a meal or an espresso at a restaurant or caffe there.
I've been jazzed with the new places opening up since the summer. Park Tavern on Washington Square garnered great reviews. Tupelo, the new bar on Upper Grant, is packing a very interesting and mixed crowd into their spacious, relaxed watering-hole.
In addition, Al's Attire (@ Vallejo) created a beautiful retro space for his fashion creations. Just up the street, "1814" showcases a wild collection of tees from several local artists. Park & Pond's varied selection of products spotlights the work of local artisans. Little Vine has a vibe and service that remind me of the old-time North Beach markets now gone. And, you never know which local artists will be showing their newest work at Focus Gallery or Live Worms.
The annual North Beach Holiday Boutique Crawl – this Thursday, December 8, 6-9pm – is a great opportunity to discover the new businesses and to renew your ties to merchants who have been here for years.
Twenty-six great shops, galleries and studios on Upper Grant, Union, Stockton, Powell and Green Streets, are participating. Each merchant will have something special going on inside their shops.
Come out and support our local merchants. Support North Beach!