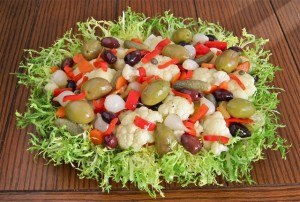 I just love this classic Neapolitan Christmas Salad, insalata di rinforza, in Italian. Insalata di rinforza translates into Reinforced Salad. How did such an important part of the Christmas table get such a silly name?
Here's the tale. Giardiniera, vegetables stored in a vinegar bath, is a main ingredient. Neapolitans make their giardiniera with the last of the summer bounty. Of course, after a few days of marinating, you have to eat some, and then some more. To make sure there is enough at Christmas, they add more vegetables as their giardiniera stash gets low.
By the time Christmas comes around the giardiniera has been "reinforced" several times by adding more vegetables to replenish the jar. And so the restored giardiniera lends its name to insalata di reinfoza, the Neapolitan Christmas Salad.
Don't worry, if you don't want to make giardiniera, just buy some at the market.
This is a really simple salad to put together and it looks beautiful on your holiday table all by itself or as the centerpiece of an antipasti course as I served it at my lunch today. With the giardiniera in hand, all you have to do is boil some cauliflower florets and compose the salad. How easy is that?
Buon Natale. Happy Holidays. Buon appetito!

Neapolitan Christmas Salad
Cuisine:
Neapolitan Christmas Salad
Ingredients
1 medium cauliflower
1 garlic clove, peeled and left whole
1 large bunch frisee (aka curly endive)
¼ pound Gaeta olives, pitted (or your favorite dark olive)
¼ pound Calamata olives (or your favorite green olive)
3 anchovy filets, roughly chopped (optional)
½ pound Giardiniera
½ cup EVOO
sea salt and freshly ground pepper to taste
Instructions
Bring a large pot of water to a boil.
Add sea salt to taste and the whole peeled garlic.
Cut off the cauliflower florets from the stem. Discard the stem.
Put the florets in the boiling water and boil until just knife tender but still firm, about 10 minutes.
Remove the florets to a serving dish and set aside to cool.
Arrange the frisee around the border of a large serving platter.
Put the pitted Gaeta olives, green olivess, capers, anchovy if using, and giardiniera in a large bowl. Season with a little sea salt, a bit more if you're not using the anchovy. Mix well.
Arrange the cauliflower florets atop the serving platter with the frisee.
Distribute the mixed ingredients evenly over the florets. Scatter the whole green olives over the salad and serve.
(This salad is typically served with taralli with fennel seeds.)