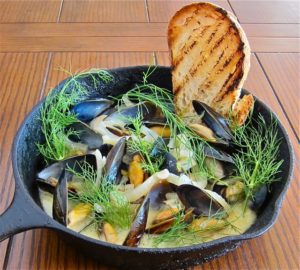 I ended my birthday celebration with 3 glorious days in Boston. I knew I had to eat at NEBO and booked a table. It was my birthday and my friends' anniversary celebratory 4-course dinner.
NEBO named for its original location in Boston's vibrant Little Italy (North End Boston) recently relocated to the edge of the financial district.
Chef-owners Carla and Christine Pallotta and their 80-year-old mother made us feel as though we were at their home. The vivacious sisters serve the food they grew up with. Their grandmother and mother cooked their ancestral food from Puglia and Compania.
Mrs. Pallotta is a regular at the restaurant. She's a constant mentor. "Don't do it that way, do it this way," she demonstrates while watching pasta being made in the kitchen.
Turns out that one branch of the Pallotta family is from a village in the Appenine foothills inland from Naples very close to Mirabella Eclano where my Mom was born. "We're paesani" the 80-year old Mrs. Pallotta and I exclaimed in unison as we shared family histories.
Carla and Christine's pan-steamed mussels were the star of our all-seafood antipasti course. I kept thinking about them so I had to try to replicate this fantastic simple dish. Here's my interpretation of the NEBO pan-steamed mussels that we savored on that special night.
I think I got it right. The small mussels bathed in the  fennel-flavored mascarpone cream broth are briny, plump and tender. The fennel's anise flavor balances the rich mascarpone broth. I scoop up some broth, fennel and shallot on each half-shell as I pop one mussel after another into my mouth.
Serve the mussels with grilled bread rubbed with garlic and sprinkled with sea salt and extra virgin olive oil to sop up all the rich, flavorful broth.
This dish brings me back to the Bay of Naples. Grazie mille Pallotta family. I'll be back and in the meantime I'll recreate your wonderful southern Italian dishes in my kitchen.
Buon appetito!

Steamed Mussels with Fennel & Mascarpone
Plumb mussels steamed with fennel in a mascarpone cream broth.
Ingredients
24 mussels, cleaned and debearded
1 fennel bulb, cored, halved and thinly sliced
2 tablespoons extra virgin olive oil
2 shallots, roughly chopped
1 bay leaf
2 sprigs fresh Italian flat parsley
1 cup dry white wine
1 cup water, fish stock or clam juice
½ cup mascarpone
Instructions
Put the olive oil in a large cast iron pan or large pot over high heat.
When the oil ripples add the fennel, shallot and bay leaf and sauté until the fennel is tender, 3-5 minutes.
Add the white wine, water, mascarpone and parsley. Mix well and boil until the liquid thickens a bit, about 5 minutes.
With the broth at a rapid boil and add the mussels and put a lid on the pan.
Steam the mussels until they are all open, about 5 minutes. Discard any mussels that didn't open.
Serve immediately in the pan or put the mussels and broth in a large bowl and top with some fennel fronds.