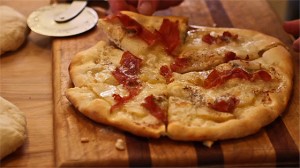 North Beach's Tommaso's opened in 1935. The Crotti family bought it in 1973 and they're still serving the original menu from 77 years ago.
Agostino Crotti boasts that Tommaso's was the first to have a wood-burning oven on the West Coast . "That's written in the books."  Augstino says "this place is famous for one reason and one reason only: the brick oven."
Agostino gave the oven design to Alice Waters who built one at Chez Panisse in 1980 and California-style pizza was born. Alice passed the design on to Wolfgang Puck who built one at Spago opened in 1982. The rest is history. "So everything started here," Augustino proclaims.
Pizza in San Francisco has come a long way since 1935. The pizzeria choices in most neighborhoods are incredible. Just in North Beach you can get a dazzling array of pizza at a dozen places. Pizza delivery has evolved too. Not just home delivery anymore. We had fantastic pizza truck pies from Casey's parked downtown on Mission for lunch a few weeks ago.
Agostino isn't too impressed with all these developments. He only eats pizza out of his 77 year old wood-burning oven. "I'm more simple. Give me a margherita pizza and I'm a happy camper." That's my Tommaso favorite too but the half-sausage/half-meatball ain't bad either.
Make your own pizza at home with my easy recipe. The dough is foolproof. Make Pizza Margherita or the Gorgonzola, Prosciutto and Pear pizza (Agostino might not approve of this one) or use your favorite toppings.
EaterSF's Pizza Week 2012 posts are a goldmine for everything you need to know about pizza in San Francisco, including Del Popolo, the new monster pizza truck with a wood-burning oven.  Don't miss A Snob's Guide, a virtual SF pizza encyclopedia. You can read Chloe Schildhause 's full interview with Agostino Crotti and his sister Carmen too.