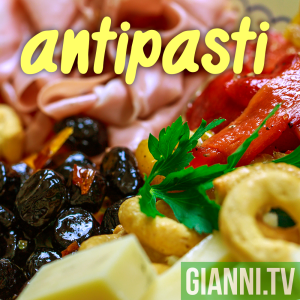 An antipasti platter is your culinary canvas. Lay out a couple of your favorite Italian cheeses and salumi (cured meats) that pair well together. Add some veggies for color. Olives maybe? And what about some taralli scattered all around?
A feast for the eyes but more importantly an icebreaker for those around your table. A little prosecco doesn't hurt to get the conversations flowing. Let their eyes feast on your canvas for a short while.
It's a set-up. The antipasti course is an important beginning to a leisurely 4-course Italian meal. Wake up the taste buds with a little something. A variety of tastes preview what's to follow.
The one I made is a classic from my days in Jersey. Some variation of that platter started every holiday meal.
No time? Get everything you need at an Italian deli or well-stocked market. Then you just have to paint your canvas.
But if you want to add something homemade, make my quick olives marinated with orange, oregano and chili flakes. My roasted peppers are always a favorite. Invest a little more time and make my homemade giardiniera, still crunchy pickled vegetables.
Be sure to subscribe so you don't miss my upcoming porchetta episode. A real farm to table story about a sow from Chico and the beautiful spit-roasted porchetta devoured by a crowd on Russian Hill. Here's a peek at the porchetta party.
Warning! Don't fill up on the antipasti. You got a soup, pasta or risotto coming followed by the main course and dessert. Depending on who's at my table sometimes I make individual plates for everybody so nobody eats too much right away.
Buon appetito!

Marinated Roasted Peppers
Roasted peppers flavored with extra virgin olive oil, garlic and oregano
Ingredients
2-3 red or yellow bell peppers (don't use green)
¼ cup extra virgin olive oil
1 or 2 garlic cloves, thinly sliced or chopped
1 teaspoon dried oregano
sea salt to taste
Instructions
Roast the peppers right on the burner. Turn so that the skin is blackened all over.
Put the blackened peppers in a covered bowl or paper bag to let them steam a bit.
When the peppers are cool enough to handle cut the pepper in half and remove the seeds and membranes, turn over and scrape off the blackened skin.
Cut into 2-inch strips.
Put the roasted peppers in a bowl. Add the olive oil, garlic and oregano and mix well.
Let the peppers sit in the marinade for at least 30 minutes.
Serve at room temperature.
[amd-recipeseo-recipe:123]