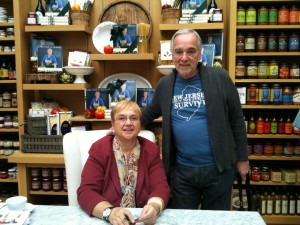 Lidia Bastianich inspires me. She's been a mentor for a long time. I have 6 of her cookbooks and I read them often. Lidia's Italy has been a PBS blockbuster cooking show for years. I've watched them all but my absolute favorite is the one Lidia did with Julia Child years ago. Some say that Lidia does for Italian cooking what Julia did for French.
I finally met Lidia Friday night at her Marin Center cooking event. Lidia cooking for 2 hours. I was in heaven. The dishes were from her new cookbook Lidia's Italy in America celebrating the food of Italian immigrants as it is cooked in Italian-American communities across the U.S.
She made rigatoni woodsman-style with sausage, mushrooms and San Marzano tomatoes; spaghetti with a basil pastachio pesto; stuffed artichokes baked in the oven; chicken alla sorrentina with basil, tomato sauce and mozzrella; and zuppa inglese with panettone and pastry cream.
Watch my interpretation of scallopine alla Sorrentina, inspired in part by Lidia.
I saw Lidia again on Saturday to get my book signed. I apologized that I was a little disheveled. I was on a break from the start of the restoration of Vranas' Song of Pulcinella mural in North Beach.
"I really appreciate what you do to celebrate the food and culture of Italia," I told her. "And thank you for returning to the food and traditions of Italian-Americans in communities like North Beach around the country."
As I left to get back to the dirty restoration work Lidia said "I'll follow you on your blog." Now wouldn't that be special?
I hope Lidia comes back to North Beach soon. The Village can use all the help we can get to preserve one of the most vibrant Italian communities in America.