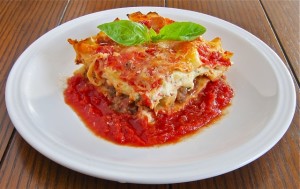 I promised to make a lasagna for our office potluck lunch Thursday. As I got ready for a trip to LA I tried to beg off making the lasagna.
I knew I wouldn't be in the mood to make a lasagna because I was flying back Wednesday night.  My office mates wouldn't let off the hook.
I was stuck. After I unpacked I dashed off to the market to get everything I needed.
I was making a "lazy" lasagna. No homemade pasta sheets. No long-cooked sauce. This puppy is in the oven in a half-hour.
Don't be intimidated. This is a simple recipe for a weekend meal or even for a leisurely weeknight dinner.
I used no-boil lasagna sheets, sausage  browned out of its casing and a ricotta, mozzarella and pecorino filling. Canned San Marzano tomatoes made the quick tomato-basil sauce a snap. Leave out the sausage and you have a delicious vegetarian lasagna.
First start the sauce. It will be ready in about 30 minutes. Cook the sausage at the same time. In the meantime whip up the ricotta and mozzarella filling. When the sauce is ready assemble the 3-layer lasagna and bake it in a hot oven for about a half-hour.
How easy is that? You'll be ready to eat in about 60 minutes start to finish.
The ricotta filling encased in tender pasta sheets is creamy and rich. The perky sausage layer bathed in the sweet tomato-basil sauce is a zesty counterweight. I savored every bite. 2 of my lucky mates snagged the leftover lasagna for their lunch the next day.
Serve the lasagna with a simple salad and a bold red wine. Have some crusty bread handy to wipe up the sauce left on the plate. You won't have to wash that dish before you put it back on the shelf.
Buon appetito!

Lazy Lasagna with Tomato-Basil Sauce
Cuisine:
Italian-American
Ingredients
1 box oven-ready (no-boil) lasagna sheets
2 pounds ricotta, drained
1 pound fresh mozzarella, shredded
¼ cup grated pecorino or parmigiano, plus more to sprinkle on top of the lasagna
¼ cup fresh Italian flat parsley, chopped
2 eggs, beaten
1 tablespoon freshly ground black pepper
1 pound Italian mild sausage out of the casing
2 28-ounce cans imported San Marzano whole tomatoes
3 tablespoons extra virgin olive oil
2 garlic cloves, smashed
2 sprigs basil
sea salt to taste
2 tablespoons unsalted butter cut in small cubes
Instructions
Heat the oven to 375 degrees.
Put the canned tomatoes in a large bowl and crush them with you hand. Discard any basil in the can and any skin or tough stems.
Put 2 tablespoons olive oil and garlic in a sauce pan over medium-high heat. Cook the garlic until it takes on a light tan color.
Add the tomatoes to the pan and sea salt to taste. Bring the sauce to a rapid simmer.
Add the basil, reduce to low heat and stir the sauce occasionally for about 30 minutes. The sauce will thicken a bit as it simmers.
As the sauce simmers put a tablespoon of olive oil in a saute pan over medium-high heat. When the oil is hot add the sausage and brown. Break up any clumps as you cook the sausage.
Drain off the oil in the pan and set the sausage aside.
In a large bowl beat the eggs then add the ricotta, most of the shredded mozzarella, pecorino, parsley and black pepper. (Set aside a ¼ cup of the shredded mozzarella to spread on top of the lasagna.)
Beat well with a fork or whisk.
In a 9 x 13 inch baking dish spread a cup of sauce evenly over the bottom.
Dot with 1 tablespoon butter.
Lay down a single layer of lasagna sheets to cover the bottom of the dish.
Add half the ricotta filling and spread it evenly over the lasagna sheets.
Add another single layer of lasagna sheets on top of the ricotta filling. Spread a cup of sauce evenly over the sheets.
Add the browned sausage in an even layer over the lasagna sheets.
Top with another single layer of lasagna sheets and spread a cup of sauce evenly over the sheets.
Spread the remaining ricotta filling evenly over the sheets.
Top with another single layer of lasagna sheets and spread a cup of sauce evenly over the sheets.
Sprinkle with the reserved shredded mozzarella and some grated pecorino.
Dot with butter.
Cover the baking dish tightly with foil and bake for 25 minutes. Uncover and bake for 5 minutes more to lightly brown the cheese on top of the lasagna,
Let the lasagna sit for about 15 minutes before cutting the lasagna. (I usually make 3 cuts the length of the lasagna and then 4 cuts across the width to form 3 x 3 inch pieces.)
Put any remaining sauce in a sauce bowl should your guests want to add more to their lasagna.
(The lasagna is even better the next day.)