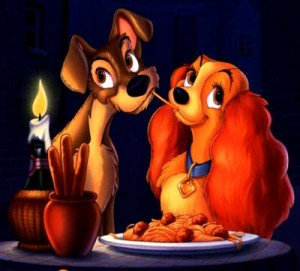 Saint Valentine was a priest in Rome renowned for his chastity. How did he become the patron saint of lovers?
Legend says Emperor Claudius forbade soldiers to marry and St. Valentine ignored the decree in pagan Rome and encouraged young people including soldiers to unite in Holy Matrimony. He was put in prison for his defiance and was executed on February 14. In the 15th century the Pope authorized the distribution of marriage gifts to poor women and the first ceremony was on February 14 and St. Valentine whose sainthood was celebrated on this day became known as the protector of lovers.
Here's a suggestion for a romantic Valentine's Day dish: Spaghetti al Cartoccio, Spaghetti in a Package.
Wrap spaghetti cooked very al dente and dressed with your favorite sauce in parchment paper or aluminum foil tightly sealed and bake in a 425 degree oven for 5 minutes. Put the packet on a serving dish. Open the packet at the table. First for the love of your life there's the anticipation of not knowing what's inside the packet, then there are the aromas wafting as the packet is torn open and then the discovery of the delights within. Wow that's hot!
Use my recipe for San Marzano sauce to make this dish.
A Perugina Baci (kisses) chocolate wrapped with a tender love message at the end of the meal can't hurt to seal the deal!
Auguri per San Valentino! Happy Valentine's Day!