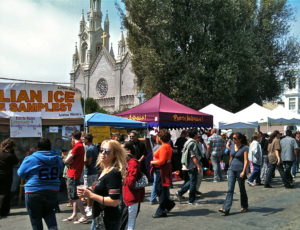 Don't miss the annual Festa Coloniale Italiana this Saturday, August 11, 2012 on Washington Square in front of the San Francisco Italian Athletic Club (SFIAC).
The Festa is the only Italian festival that celebrates San Francisco's Italian and Italian-American heritage. It's our version of Ferragosto, the Italian mid-summer holiday.
Catch Italian music on the stage. Watch an Italian dance performance. Award-winning pizzaiolo Tony Gemignani will enthrall us with his world-famous pizza tossing skill. Stop in the SFIAC's main ballroom transformed for the day into an Italian piazza complete with a fountain.
Sample delicious Italian-American street foods including calamari, sausage and pepper and meatball sandwiches. Enjoy wine and beer on the street or at the wine-tasting in the SFIAC's 3rd floor Parkview Room with a terrace overlooking the park.
Here's the whole Festa Italiana line-up.
I hope I see you there.