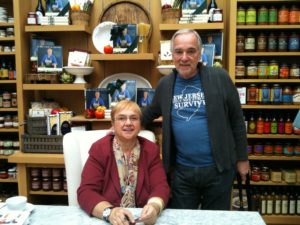 I have a couple of shelves full of cook books in my library. Here are some of my favorites, in time to order and ship as gifts for Christmas Holiday.
Marcella Hazan opened up a new world of authentic Italian cooking with the publication of Essentials of Italian Cooking. She helped me expand my repertoire beyond the Italian-American cuisine I was most comfortable making. Some say that Marcella did for Italian cooking what Julia Child did for French cooking in the U.S.  Marcella's Italian Kitchen
 is a breezier, lighter tome. In the preface Marcella shares her philosophy about authentic Italian cooking, her cultural Italian food insights and some rules in the Italian kitchen. The recipes are more accessible to a newbie but start with Essentials first.
Pellegrino Artusi's  Science in the Kitchen and the Art of Eating Well
was published 120 years ago and is still a best-seller. It was the first cook book in the Italian language for Italian home cooks. There are almost 800 recipes and it's laced with kitchen tips and insights into food culture in Italia.
I love Lidia Matticchio Bastianich. I watch her PBS shows. I visit Eataly, her Italian food emporium, whenever I'm in Manhattan. I have just about every one of her books. Her recipes are simple and reflect her slow food philosophy. Two books,  Lidia Cooks from the Heart of Italy
 and Lidia's Italy
 feature authentic recipes from a number of Italian regions. Her latest book. Lidia's Italy in America
 is a celebration of classic Italian-American dishes culled from Italian neighborhoods, including North Beach, across America.
San Francisco's own Carol Field is the author of The Italian Baker
, the classic tome just recently reissued. Carol learned her recipes from artisan bakers throughout Italia and makes them accessible to American bakers. The recipes are almost fool-proof.
East Bay Area resident Rosetta Costantino was born in Calabria, the region at the bottom of the Italian boot. She shares the zesty, simple cooking in a generous book, My Calabria
.
Jessica Theroux's  Cooking with Italian Grandmothers
contains recipes she learned from "old stoves" who live close to the land. The women shared the secrets of their simple kitchens and Jessica makes them easy to make in your kitchen.
Giuliano Bugialli was one of my earliest teachers. He presents classic Tuscan dishes, and provides authentic techniques. I use the 1977 first edition of The Fine Art of Italian Cooking
often. Foods of Italy
 is a beautiful coffee table sized book. Bugialli includes classic regional recipes from dishes that he discovered as he travelled all around Italia researching this book. The photographs in this book are beautiful. The Foods of Naples and Campania
 is another coffee table sized book, this is one of my favorite Neapolitan cook books with great authentic recipes and fantastic photos.
Friends introduced me to Naples at Table
 by Arthur Schwartz about 10 years ago. It is a dazzling collection of the simple food of Naples and the region of Campania. I use this book often. It may be hard to find but it is worth the effort.
Alice Waters' The Art of Simple Food
is a must have book with over 250 simple recipes from this early slow food pioneer. Learn to eat locally and seasonally to enjoy food at its peak.