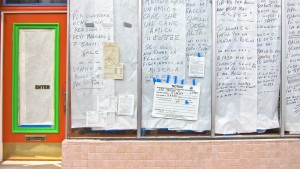 I was worried about the south side of Vallejo Street between Columbus and Stockton. There was an even mix of Italian and Chinese stores on that block. Then Pulcinella Pizzeria closed and I heard that Victoria Pastry (est. 1914) on the corner was moving to Powell and Filbert near Washington Square. Would we have to cede that side of the street, no longer with any North Beach-oriented businesses? Thank God the answer is no.
As I reported last week, Tony Gemignani quickly scooped up the Pulcinella space where he will feature deep-dish pizza in his new Capos. The new owner of the Italian-French Bakery on Upper Grant is taking Victoria's corner spot. He own's the building.
I hope Italian-French reinvents itself in its new location. North Beach could use a really good panificio (bread bakery) that makes a selection of traditional breads found in Italy. OK, they can throw in a San Francisco sour dough every once in a while. Arthur Avenue, NYC's Real Little Italy" boasts a half-dozen great bread bakeries and every family has their favorite. Why can't North Beach have at least one? Will Italian-French step up and fill the need?
A new salumeria (Italian deli) will open across the street. The owner of Pinocchio on the corner will open Geppetto's right next door, hopefully before Christmas. The equipment and furnishings are still crated and sitting in the front of the space ready to be installed. They're working hard and I can see the place starting to come together.  I can't wait to get a peek at what Giovanni Zocco will have to offer us. Stay tuned.