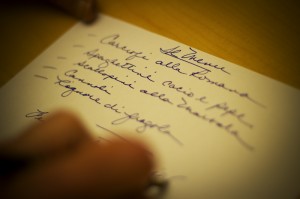 This is the menu for a recent lunch I prepared for about a dozen work colleagues, evenly divided between Bay Area and NYC residents.
I wanted this meal to feature the best of slow food in the Bay Area for our NY guests, so I served Fra'Mani salami made in Oakland and used only organic farmer's market produce. Italian prune plums had just arrived in the farmer's market near my office and the strawberries were just about done for the summer season so I had to use them both.
I rounded all of that out with the best of imported Italian products that I could find in Gianni's North Beach and at A.G. Ferrari near my office too. I wanted to include a Jewish dish and chose the stuffed artichokes in the style of the Roman Jewish ghetto. Besides my mother's lasagna, the lasagna al forno con balsamella is the one that my family and friends most often ask me to make for them so I had to include it in this menu.
Check out the wines. They either mirror or contrast the major flavors in each course. Let me know if you want me to show you how to make these dishes or want me to post some of the recipes.
Antipasti
Carciofi alla Romano. Artichokes with a breadcrumb, minced mint, parsley, garlic, and anchovy stuffing poached in EVO and water. (The star of the course. All the rest of the stuff could be eaten after the last bite of the artichoke went into your mouth.)
Prosciutto di Parma
Fra' Mani Toscano Salami (locally produced)
Boschetto al Tartufo. Cow and sheep milk semi-soft cheese with white truffle from Toscano.
Robiola Bosino. Cow and sheep milk soft cheese from Piemonte.
Cipolline en agrodolce. Flat caramelized Italian onions in a balsamic and chestnut honey sauce.
Olive Calabrese. Olives, roasted red peppers, garlic cloves, Calabrese chili in an EVO marinade.
Focaccia. Homemade, topped with EVO, sea salt, dried Sicilian oregano. A Neapolitan favorite.
Vino: Alice Ose vino spumante. A sparkling rose from the Prosecco region of the Veneto that pairs well with this broad array of fairly bold flavors.
Primi
Lasagna al forno con balsamella. Layers of homemade pasta, Bolognese meat sauce, grated parmigiano and fresh mozzarella, and bechamel.
Insalata mista. Baby field greens, edible flowers dressed with "La Mola" extra virgin olive oil, aged balsamico and fiore di sale (the very top crust of sea salt beds).
Vino: Badio e Colibuono Chianti Classico 2006. Had to go with a Tuscan to stand up to the lasagna and this is a great bottle. Not as good as the 05, but a very close runner-up.
Dolce
Crostata di prugne con crema. Free form tart with fresh Italian prune plums with a dollop of whipped cream on the side of each slice.
Liquore di fragole. A homemade strawberry liqueur. Had to make this with the last of the summer's small, dark red strawberries. In Italy, this liqueur will keep the strawberries in your heart until the first harvest next spring.
Sparkling and still Italian mineral waters.