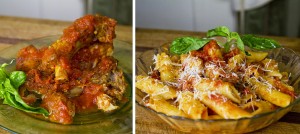 I've been thinking about this maccheroni con sugo di crostate di maiale (macaroni with a pork baby back rib sauce) since NoodleFest, the NorthBeach/Chinatown outdoor eating event last May. Right near the stage where I was demonstrating how to make fresh pasta dough about 20 NB restaurants had booths where they served up tastes of their favorite pasta. In between demonstrations I ran over to the closest booth. There I met Francesco who owns the Calabrian restaurant Vicoletto (Green between Columbus/Grant). He was serving fresh tagliatelle with a pork riblette sugo.
"You like hot?," he asked. When I said yes he finished my serving with a sprinkle of grated pecorino and a few drops of a golden red olive oil from a gallon jar of hot peppers. Sweet tomato sauce,  meat falling off the ribs, the silky fresh pasta, it was heaven. But the heat and mellow flavor from the pepper oil really set this pasta apart. This is my version of Franceso's dish.
Calabrians love hot peppers that make their food zesty and memorable. So here's the challenge. How many drops of the hot pepper oil on top of your dish of pasta are enough for you? If you're not into hot–no worries–this is a delicious sauce without the chili oil. I don't think Calabrians would mind too much!
Eat one of the peppers if you're brave enough. I love them but sometimes I need to have a hunk of bread nearby to put out the flame! The peppers are a great addition to an antipasti platter. Just warn your tablemates.
[amd-recipeseo-recipe:29]