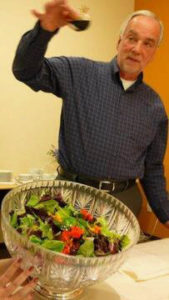 It's a Jersey Christmas this year. I'm cooking a Seven Fish Dinner on Christmas Eve with friends. Christmas Day is with my sister Rose's branch of the family. We'll be 3 generations in the kitchen.
My office-mates convinced me to cook for them before I take off. We couldn't decide on a restaurant for our annual holiday party so we'll celebrate at my place instead. I'm preparing a traditional 4-course Italian meal.
The picture is from the last office lunch I prepared. That's really old balsamic vinegar I brought back from Modena going into the baby field green salad.
One of the guys in the office can't stop randomly saying "pasta fazool" ever since I posted the pasta and beans recipe. So we had to include that dish. Otherwise, I would have made the lighter, fancier Italian Wedding Soup for this holiday meal.
The Neapolitan Christmas Salad includes giardiniera, marinated vegetables that you can store in the fridge for weeks. I'll post the insalata di rinforzo recipe tomorrow and tell you how it got its name.
Antipasti
Insalata di rinforzo (Neapolitan Christmas Salad)
Prosciutto and soppresata salami
Aged sharp provolone
Pecorino with truffles
Taralli
Pizza Oreganata
Prosecco, a dry sparkling wine from the Veneto near Venice (Foss Marai)
Primo Piatto
Pasta e Fagiole (Pasta Fazool/Pasta & Beans)
Lacryma Christi, a robust red from the hills of Vesuvius near Naples (Terradora di Paolo)
Secondo Piatto
Chicken cutlets topped with sauteed wild mushrooms and melted mozzarella, garlic/olive oil smashed potatoes, sauteed broccoli rabe (recipe in my free vegetable eBook)
Pagiu, a full-flavored ruby-red sangiovese from the heart of Umbria (Brogal Vignabaldo)
Dolce
Vanilla gelato and lemon sorbetto topped with homemade limoncello
Sparkling and still Italian waters throughout the meal
Happy Holidays! Buon appetito!