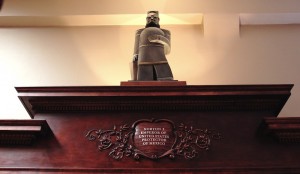 Over seventy years ago, Peter Macchiarini made up his mind that San Francisco needed a symbol. This idea wasn't a modest one — Macchiarini was looking for San Francisco's Statue of Liberty, its Eiffel Tower. Something to erect and have stand tall and proud atop the City by the Bay, embodying the city's ethos. The decision soon became obvious: Emperor Norton. In his combination of progressive thinking and quirky demeanor, few people could represent the city of San Francisco so earnestly. And so Peter Macchiarini set out to make it so by designing and making a statue of the self-proclaimed Protector of the US and All Mexico.
Tragically, Macchiarini's quest seemed to run a habit of getting very close to completion, but then falling apart. In nearly every decade since the idea's inception, a statue of Emperor Norton has almost made it into the public view of San Francisco, only to be stopped short by some sort of political or social opponent. Most recently was the effort to have Norton stand atop the Peter Macchiarini Steps (Broadway and Kearny). Makes sense, right? But even that project was halted by bureaucracy.
With the passing of Peter Macchiarini in 2001, it seemed like an Emperor Norton statue would be nothing but a nice thought. But if you sit down today at the Comstock Saloon on Columbus Ave, you'll look up to see a four-and-a-half-foot tall, 350-pound bronze Emperor Norton peering over you. Peter's son, Dan, who now owns and runs Macchiarini Creative Design, agreed to have the statue put on display at the request of the Comstock owners. And so now there the Emperor is, perched high above the bar, making sure nobody's taking themselves too seriously.
Bonus video of Dan Macchiarini in his workshop at 1544 Grant Ave. in North Beach: