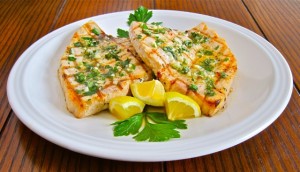 The Sicilian summer heat came early one morning.
Rows of fish packed on ice sparkled in the morning sun as we searched the open-air fish market for the perfect catch for dinner.
I almost bumped into this guy in the picture below swinging a long stick with neon orange plastic strips on the end to keep the flies moving.
With this heat we'd cook on the grill when we got back to our house in Ortigia on the Ionian coast.
We settled on 1-inch steaks cut from a huge swordfish just out of the sea.
To finish the dish I made Salmoriglio, a light uncooked sauce with fresh oregano and parsley, extra virgin olive oil, lemon, and garlic popular throughout southern Italy and perfect for grilled swordfish steaks.
Mix up a batch as you get the fire going. I takes about 5 minutes to make the sauce. Let it sit for about 30 minutes so the flavors meld.
Lightly brush the sauce over both sides of the swordfish steaks and sprinkle with sea salt and black pepper.
Grill the steaks over medium coals or medium-high heat in a grill pan. Grill the first side giving them a quarter turn halfway through to create the hatched grill marks, about 4 minutes total. Finish them quickly on the second side so that they are still moist and tender when you take them off the grill, about 3 minutes more.
Put the swordfish on a plate and drizzle with the Salmoriglio sauce. Put the extra salmoriglio in a sauce bowl so you guests can add more if they want.
The firm and moist swordfish steak is smoky from the grill. The fresh oregano and parsley are front and center in the clean and light lemon and olive oil sauce with garlic and hot red pepper in the background. A wonderful combination that lets the fresh briny swordfish shine.
I couldn't stop eating this one.
Buon appetito!

Salmoriglio Sauce
Quick grilled swordfish steaks with a light olive oil, lemon, garlic and fresh parsley & oregano sauce.
Ingredients
½ cup extra virgin olive oil
⅓ cup fresh lemon juice
1 garlic clove, minced
1 tablespoon finely chopped Italian flat parsley, finely chopped
1 tablespoon fresh oregano, finely chopped
1 tablespoon sea salt
⅛ teaspoon dried chili flakes or a small hot red pepper, thinly sliced (optional)
Instructions
Put all the ingredients in a bowl.
Mix well.
Let sit at room temperature for about 30 minutes to allow the flavors to meld.