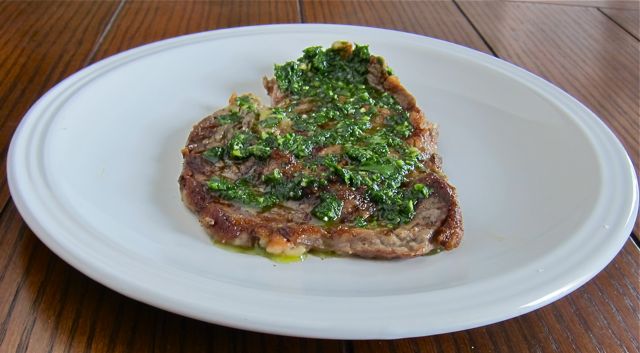 Want a fast weekday evening meal? You can have this flavorful steak on your table in less than 15 minutes.
Ribeye, strip or porterhouse steaks work well. Cook the steaks on an outdoor grill or in a grill pan on top of the stove.
I was in a hurry and only had to feed myself, so I had my butcher cut ribeye steaks about an inch thick. They grill to medium-rare in just 4 minutes.
For a fancier and more classic version of this traditional dish, use a thicker steak. A 24-ounce, 3-inch thick steak will take 8-10 minutes for medium rare and serves 2-4 people. Cut the steak across the grain and serve the slices on a platter topped with salsa.
Make the herb sauce in a food processor in minutes. Start with a base of fresh basil, Italian flat parsley and EVOO. I had rosemary and oregano in the fridge so I added a little of both to my salsa. Marjoram, tarragon or fresh thyme work well too. Salsa delle erbe goes well with other grilled meats, fish and chicken too.
Serve the steak and herb sauce with baby spinach sauteed with olive oil and garlic or a green salad dressed with red wine vinegar, EVOO and sea salt and you've got dinner.
Buon appetito!

Ingredients
1 cup packed basil leaves
1 cup packed flat-leaf parsley leaves
2 tablespoons packed fresh oregano leaves
1 tablespoon packed fresh rosemary leaves
2 cloves garlic
3⁄4 cup plus 2 tablespoons EVOO
Sea salt and freshly ground black pepper to taste
1 rib-eye, strip, or porterhouse steak, sliced about an inch thick per person
Instructions
Put the herbs, garlic and ¾ cup EVOO in the food processor and pulse a few times until the herbs and garlic are finely minced, almost a paste consistency.
Season herb sauce with salt and pepper, cover with plastic wrap, and set aside for at least 1 hour to let the flavors meld.
Put steak on a plate, season both sides generously with salt and pepper and rub with the remaining 2 tablespoons of EVOO.
Heat a gas grill to medium-high or heat a grill pan over medium-high heat on top of the stove.
Cook the 1-inch steak for about 3 minutes on the first side and cook on the other side for about 1 minute for medium-rare. Adjust the cooking time if your want a more rare or more done steak or your using a thicker steak.
Place the steak with the browned first side you grilled up and let rest for 5 minutes. Spoon the herb sauce over the steak. Serve immediately.