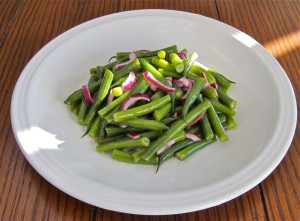 Add this recipe to your list of dishes that you can have on your table in less than 30 minutes. It's healthy and delicious.
I love the simple taste of green beans drizzled with extra virgin olive oil, a sprinkle of sea salt and a squeeze of lemon.
Make the green beans part of your antipasti platter or as a side dish at lunch or dinner, served warm or at room temperature.
I'm not a crunchy vegetable guy. I cook the green beans until they are tender to unleash their full, rich flavor. The red onion mellows in the lemon juice and adds a sweet crunch to the salad.
Buon appetito!

Green Bean & Red Onion Salad
Green bean salad is fast and delicious. Add it to your antipasti platter or as a lunch or dinner side dish.
Ingredients
1 pound green beans
½ red onion
2 tablespoons EVOO
½ teaspoon sea salt
Juice of ½ lemon
Instructions
Thinly slice the red onion and cut the slices in half.
Put the onion in a bowl, add the juice of ½ lemon and the sea salt. Set aside to let the onion's flavor mellow in the lemon juice.
Put on a pot of salted water to boil.
Cut off the stem end of the green bean and cut them in 3-inch pieces.
Cook the green beans in boiling salted water until knife tender.
Drain the beans well and add to the bowl with the onion.
Add the EVOO to the bowl and mix the salad well.
Serve warm or at room temperature.