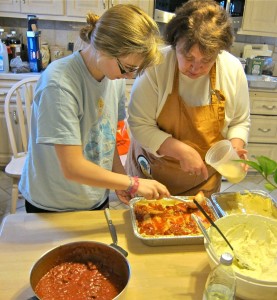 Not mine and maybe not yours but if you're on Staten Island you can savor the cooking of a real nonna (grandmother) born in Italia at local restaurant Enoteca Maria.
No chefs here. Every night one of a stable of 9 grandmothers is in the kitchen making her favorite dishes from her native region. Joe Scaravella opened Enoteca Maria 5 years ago after he lost his mother and sister. He yearned to recreate the Italian family table now gone from his life. The nonnas hail from Naples and other towns in Campania, Agrigento and Palermo in Sicily and the province of Chieti in Abruzzo.
Joe placed an ad recruiting local women who cook authentic Italian food. He interviews each nonna and within 5 minutes he knows in his heart who to invite into the kitchen. Joe picks only those grandmothers he senses can really cook. When asked what food they grew up on he knows that they are not right for him if they respond in English with chicken parmigiana or eggplant.
Wait a minute Joe, what's wrong with eggplant? I ate a lot of eggplant made by my Campania-born mother and eggplant parmigiana is my favorite dish.
Giovana Gambino is one Enoteca Maria's nonnas. She was raised in Palermo and was cooking the day NPR's David Greene visited Enoteca Maria. She boasts that she doesn't cook arancini the classic Sicilian rice ball in the traditional way. Giovana's modified simple arancini recipe is shaped by years of living in America but still remains true to its roots in Palermo. If you want to kick arancini up a notch or two try these arancini from da Flora, the Venetian osteria in North Beach.
I'll take the free ferry from Manhattan over to Staten Island the next time I'm in New York. I'll let you know what nonna's cooking that night at Enoteca Maria. Can't wait!