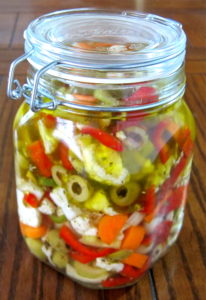 I'm finally giving in to the reality that winter is coming. I think it was setting the clocks back last weekend that did it. By 5 it's getting dark now and I'm not sure I like that.
In reaction to shorter days and winter nights I've been putting up marinated vegetables for my pantry. I was compelled to make vinegar peppers (peperoni sott'aceto) and eggplant caponata. And I'm about to break into the Giardiniera, a jar of marinated vegetables.
Giardiniera is an Italian kitchen staple. Make up a big batch and keep it in the refrigerator. Giardiniera is a great snack with salumi or cheese. I like it on sandwiches. It's great on an antipasti platter or even as a side for a roboust star, grilled sausages maybe or even roasted pork.
Cutting up the vegetables takes the most energy. I gotta be honest about making Giardiniera though. You have to brine the vegetables overnight and they have to marinate for a couple of days before they're ready to eat. Of course, if you're impatient, you can take a taste or two in the interim.
Giardiniera
1 small head cauliflower
1 carrot
1 celery rib
12 pearl onions
12 pitted green olives
1 red bell pepper
1 yellow bell pepper
1 small serrano or jalapena chile
1 clove  garlic
1 tablespoon dried oregano
1/4 teaspoon freshly ground black pepper
1 cup white vinegar
1 cup EVOO
1/4 cup sea salt for the brine
Remove the seeds and ribs from the red, yellow and serrano peppers. Cut into 2 inch strips and then 1/2 inch slices.
Cut the celery and carrot in quarters and cut in 1/2 inch slices.
Cut the pearl onion in half.
Cut the cauliflower in quarters and cut out the core and large stem. Break the florets into pieces about the same size of the other vegetables.
Place the green, red and serrano peppers, celery, carrots, onion, and cauliflower in a bowl. Stir the salt into enough water to cover the vegetables and pour the water into the bowl to cover the vegetables completely. Add more water if necessary.
Cover the bowl with plastic wrap or aluminum foil and refrigerate overnight.
The next day drain salty water and rinse vegetables well.
Cut the olives in half.
Mix the garlic, oregano, black pepper and olives in a bowl. Pour in vinegar and EVOO and mix well. Pour the mixture over the vegetables and mix well.
Spoon the giardiniera into a liter or quart jar, fill to the top with the oil mixture and seal the jar tightly.
Refrigerate for 2 days before eating.
Gardiniera will keep in the refrigerator of at least 2 weeks.