On Saturday, we did our first live cooking demonstration with 12 folks in my small apartment. Strangers were brought together by the allure of The Village and its Italian food, braving the rainy day to reach the top of The Hill: A couple from San Carlos; a few emissaries from The Mission; a young couple new to The Village; a personal chef from Brazil; a few old-timers; and a former resident jonesing for a return to North Beach.
It was a fun bunch of guests.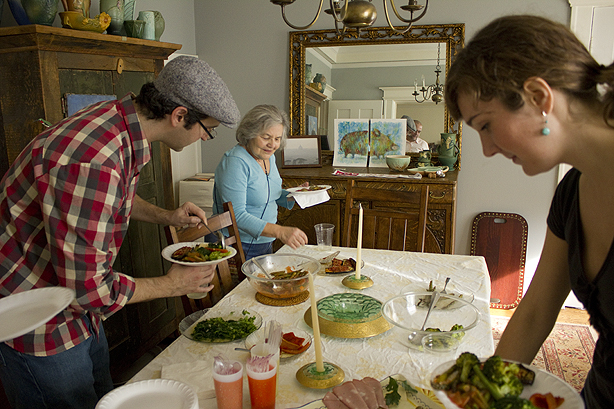 For one guest, it was a surprise Christmas present. North Beach resident, Jeff, brought his wife, Karla into my place without telling her why. You should have seen the look on her face when she peered into the kitchen and saw me: "Oh my God!"
Call MasterCard, 'cause that moment was priceless.
And thank God for everyone's help during the demo. Mary tended the red bell pepper we were charring on top of the stove. Dan did a nice job bringing the cream for the gorgonzola sauce to the proper texture.
Half the group had roots in Sicilia and shared stories of their families. Good thing one of the pasta sauces I was making was from that exquisite island. Old friends Marie and Stephanie remembered details of our trips to Italy and many meals at my table. Marco offered to cook us a seafood meal from his village on an island off Brazil.
In addition to an antipasti platter with cheese and salumi, I prepared:
String beans in a tomato sauce
Steamed broccoli the way my family likes it. Simple but delicious
Baby Italian eggplant in the oven (melanzane al forno)
Red bell peppers charred on top of the stove and marinated
Roasted asparagus
Sauteed broccoli rabe
Later I made 3 quick sauces served with choke the priest pasta–strozzapreti
Pesto trapanese (Sicily)
Gorgonzola e crema (Northern Italy)
San Marzano tomato, garlic and oregano sugo (Campania)
For wines:
Feudi di San Gregorio Lacryma Christi Bianco from near my mother's birth village in Campania
Terradora Di Paolo Aglianico, a medium-bodied red from the noble Campania grape
Three and a half hours after we started we ran out of wine. The group decided to walk off some of our meal. We ambled down Macondray Lane to bug Ron and Mike at Little City Meats. Mike told us that the Christmas sausage was a Sicilian base with aged provolone and basil added. A really rich and delicious concoction. Dan bought a bunch to add to his luncheon the next day. Karla had just roasted the porchetta she bought there (after explaining to Mike she wanted it "butterflied like a HoHo" – ha!). Jeff grabbed a gallon of the Ciuti EVOO just in from Sicily.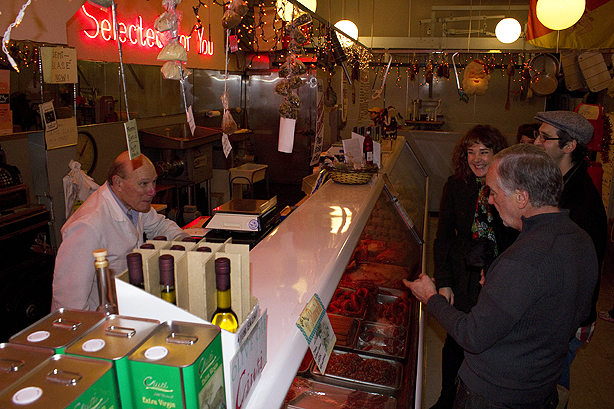 As we were gathered under the awning saying our goodbyes and Buon Natale! all around, we heard "Gianni! – from the internet!" A couple and their son Massimo (great name) in from Napa. They were shut out of the demo (sorry) but came into Little City anyway. Gonna have to start wearing sunglasses when I go down to The Village.
Grazie, everyone who came out, and for those of you we couldn't squeeze into my apartment, I hope you'll come out to the next demonstration, which will happen soon, I promise!
PS: My first cooking e-book is in production, with the six recipes from the demo plus four more. Stay tuned!