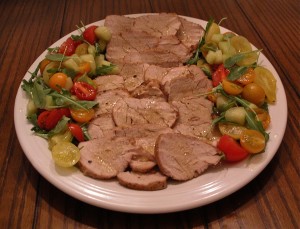 The toughest part of this meal is cutting the toy box tomatoes in half. You can be eating dinner in about an hour.
The crusty, tender slices of pork tenderloin are bathed in a pan sauce scented with garlic, sage and rosemary. The marinated toy box tomato and cucumber salad served over a bed of baby arugula is the perfect simple side.
Just marinate the tenderloin as you make the tomato salad. Brown the pork on top of the stove and roast in a hot oven. Slice and serve with the tomato salad on the side. Add a crusty loaf of bread and a bottle of sangiovese, aglianico or other zesty red and you're all set. Buon appetito!
[amd-recipeseo-recipe:59]
[amd-recipeseo-recipe:60]