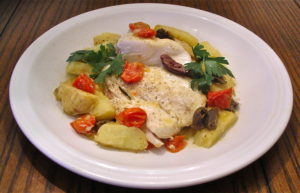 A simple healthy dish that can be made in a jiffy any time of the year.
Choose the fish you like best–usually halibut or cod fillets for me. Quickly roast the potatoes and tomatoes put all the ingredients in a parchment or foil pouch and roast in a hot oven for just 15 minutes or so until the fish just starts to flake. Dinner's ready!
If you like fish you'll love this dish. Everything is bathed in the sauce created in the pouch while the fish roasts. The fish is moist and flavorful. The tomatoes add sweetness offset by the tangy olives. The creamy potatoes absorb all the flavors and bring the whole dish together.
How easy is this? And clean up's a snap!
[amd-recipeseo-recipe:50]