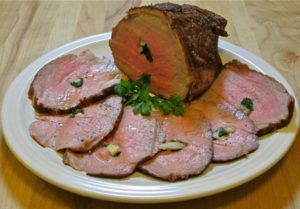 My mom made this roast often. It's zesty and flavorful.
The roast is easy, delicious, and looks great on the plate. I use a beef eye of the round just the way my mother did. This cut is readily available, and not too expensive.
Make a small hole all the way through the roast and stuff the hole with garlic and parsley. The garlic and parsley infuse their flavor throughout the roast.
Sear the outside of the roast in a hot skillet to form a nice crust all around and pop it in the oven to finish cooking atop a bed of celery, carrot, onion and parsley. You'll have a nice pan gravy when the roast is done.
You should be eating in about an hour or so.
Serve the roast with your favorite sides – garlic smashed potatoes and sauteed spinach maybe? A gutsy red wine will hold up to this roast with the flavor of garlic and parsley in every tender bite. I served it with a bottle of Taurasi from Campania. A nice chianti would be good too.
If you're lucky you'll have roast beef left over for some great sandwiches. I just made one on the Sicilian semolina bread with sesame seeds that I baked over the weekend.
[amd-recipeseo-recipe:76]