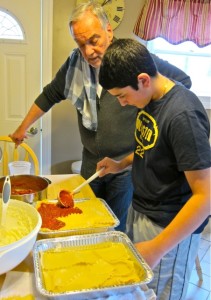 How often do you get to put something inside someone's body?
No this ain't a sex post but it's close.
I just returned from 3 weeks in Italy when I sat down with my friends at Hungry Village. Cameras rolling I riffed on what draws me back to Italy each year and what fuels my passion for sharing my food with family and friends in my home and with you on my blog.
I hope you enjoy a short video of my time living in a Roman neighborhood and my Italian-American lifestyle in San Francisco's North Beach.
The folks at Hungry Village shoot and produce my video episodes. Check out these talented Hungry Village friends on Facebook and on the Hungry Village website.
Keep on cooking. Buon appetito!