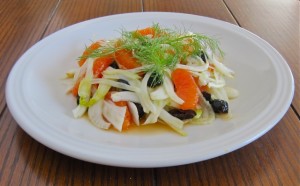 I'm hoping for spring. The quince blossoms are in bloom so spring can't be far away. For me, this classic salad from Sicily is a prelude to the change of seasons.
Start or end your meal with this perky salad. The licorice and sweet orange notes float in the citrus vinaigrette. The intense wrinkled, meaty, oil-cured olives add surprising complexity to this crunchy salad.
Usually I eat salad at the end of a meal but this one goes to the top. It's fresh and complex and easily fills the bill as a simple first course or add it to your antipasti platter.
Buon appetito!

Fennel & Orange Salad with Olives
A simple, complex from Sicily. The fennel's anise flavor enhances the orange sweetness and the oil-cured olives add intensity to the crunch.
Ingredients
2 large fresh fennel bulbs, about a pound
2 oranges
½ cup oil-cured black olives, pitted and sliced in half
3 tablespoons extra virgin olive oil
1 tablespoon fresh lemon juice
¼ teaspoon sea salt
freshly ground pepper to taste
Instructions
Cut off the top of the fennel and the stalks where they connect to the bulb.
Cut the bulb in half and remove the tough outer leaves.
Cut out the core.
Slice the fennel very thin or use a mandolin.
Put the fennel in a bowl.
Cut off the top and bottom of the orange.
With a cut end on the work surface cut off the rind. Be sure you remove all of the bitter white pith.
Holding the peeled orange over the bowl with the fennel cut out each section of the orange by running a sharp knife close to the membrane. (You can cut the orange in slices instead.)
Put the orange sections in the bowl with the fennel. Squeeze the juice from the membranes into the bowl.
Add the salt, black pepper, olive oil and lemon juice and toss well.
Serve chilled or at room temperature.