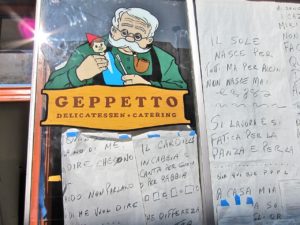 The white butcher paper with the funny Italian sayings covering the windows for months is finally coming down. Geppetto, North Beach's second salumeria (Italian deli) will have a soft opening tomorrow. "God willing," says owner Giovannni Zocco.
Geppetto (658 Vallejo between Columbus and Grant) is right next door to Zocco's Pinnochio restaurant on the corner. So you might say that the legendary father and son are once again reunited right here in North Beach.
I've been watching with anticipation over the last several months as Giovanni put the place together.
Geppetto is right around the corner from the iconic salumeria Molinari on Columbus so comparisons can't be avoided.
I stopped in yesterday to take a look. Like Molinari, Geppetto offers a selection of great sandwiches (panini) and Italian food products. What sets Geppetto apart is its focus on the food of Sicilia, Zocco's birthplace.
Marinated octopus, scungilli (conch) and calamari salads, 2 versions of capanata (vibrant eggplant salad) and many other prepared dishes fill the display case. Your favorite imported Italian salumi (cured meats) and a variety of  great imported Italian cheeses are available too. Stephano Leone is behind the counter. Steve spent 17 years at Molinari and knows this business well. As General Manager he's jazzed about helping Giovanni achieve his vision of a salumeria with a Sicilian twist.
Giovanni is carefully selecting an array of imported Italian food products. "Mostly from Sicily because that's where I'm from, but from other regions too" Giovanni explained. He'll also stock choice balsamic vinegars from Modena and a selection of special extra virgin olive oils from this year's press just ended. I can't wait to see it fully stocked.
The Molinari guys tell me that they aren't worried about Geppetto. I think there's room in North Beach for both of them. I hope that sparkle in the photo is a harbinger of "buona fortuna" (good luck) for Geppetto.
I'll be there tomorrow. Stop by if you're in the neighborhood.