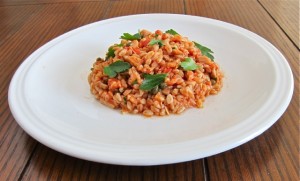 Farro is the new kitchen darling. A few years ago most people didn't know anything about this nutty, nutritious ancient grain. I just love it.
I usually make cold farro salads of one kind or another. But, here's a delicious hot dish that you can serve as a first or main course.
Farro is easy to make. Cook farro as you do rice or barley. Dress it up like pasta and it's ready to enjoy. Fast and easy.
This dish is from Puglia, the southern Italian region on the Adriatic.
The nutty, toothsome farro is enrobed in a sweet tomato sauce flavored by briny cured tuna and capers. The red pepper flakes add a hot sparkle at the end of every bite.
Want a break from pasta? Make farro.
Buon appetito!

Farro with Tuna, Tomatoes & Capers
Farro dressed with a cured tuna, tomato and caper sauce, a wonderful mix of farm and sea. Easy to make and full of zesty, nutty flavor.
Ingredients
1 pound (500 grams) farro
1 bay leaf
1 tablespoon sea salt
7 tablespoons extra virgin olive oil
4 garlic cloves, sliced
¼ teaspoon red pepper flakes
28-ounce canned San Marzano tomatoes, crushed by hand
3 tablespoons capers
2 6-ounce cans Italian tuna packed in olive oil
2 tablespoons Italian flat parsley, chopped
Instructions
Rinse the farro and drain in a strainer.
Put the farro in a pot with 5 cups of water, bay leaf, ½ teaspoon salt and 2 tablespoons of EVOO
Over medium-high bring to a boil and stir occasionally.
Reduce heat to medium and let the farro simmer with the lid ajar.
Cook until the farro is tender stirring occasionally.
If the water is not absorbed, pour it out and remove the bay leaf. Put the cover on the pot and put the farro aside.
Pour 3 tablespoons of EVOO in a pot or large skillet.
Add the garlic slices and the pepper flakes.
Saute until the garlic starts to take on some color, about 2 minutes.
Stir in the crushed tomatoes, 2 teaspoons salt and the capers.
Heat to a slow boil over medium-high heat for 5 minutes.
Drain the tuna and put it in a bowl.
Flake it into large pieces and add it to the tomatoes. Stir well.
Cook for 5 minutes more until the tomatoes are reduced and thicker.
Lower heat to medium-low and stir in 2 tablespoons of EVOO.
Add the farro to the pot and stir well into the tomatoes.
Cook until the farro is heated through.
Add the chopped parsley and stir well with the farro.
Serve immediately.