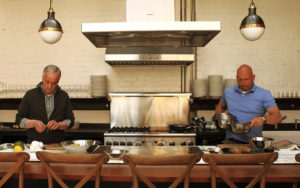 A fan wrote to tell me she just returned from a 2-week Florida vacation with her father and husband. Usually to satisfy one of her Dad's woolies (craving) they cooked up a whole bunch of my dishes.
I'm dizzy from the list. Chicken & escarole soup, chicken cutlets & potato croquette (at 7:43 in the Cook Off episode), sauteed kale, gnocchi twice once with San Marzano sauce and once with the gorgonzola dolce sauce, eggplant parmigiana, and spinach & ricotta cannelloni morphed into a lasagna. The "boys" looked pretty happy in the pic of them about to devour the lasagna. They gave it "Two thumbs up!"
She made baci hazelnut & chocolate candies for friends & neighbors before they headed north. The Valentine's Day gifts "were a big big hit," she told me.
Now that they're back home in the snow "as high as an elephant's eye" her father wants pasta e fagioli. She shared her Mom's version of the hearty pasta and beans soup we called "pasta fazool" in Jersey). Just the ticket on a cold night.
"Mom…used to make a version with olive olive oil, garlic, onions, parsley, white wine, potatoes, cannellini beans, some sauteed greens and grated pecorino romano."
"Thank you for all the fun and good eats!" she wrote.
Piacere. My pleasure. I'm happy when folks make my recipes their own so thanks to my "snow bird" friends for sharing their story with me.
The family missed my food in the long car trip back home. They said I should shoot an episode on food you can take with you for a picnic or car trip. I know some of the lunches my Mom packed for Sunday summer escapes to the beach at Coney Island will be included.
Let me know if you want me to include one of your favorite Italian dishes in an upcoming video episode. Be sure to subscribe to my YouTube channel so you don't miss a one released every Saturday.
Buon appetito!