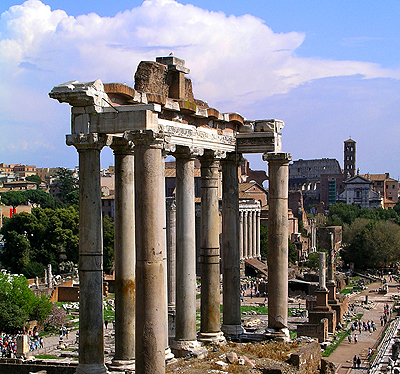 I Love Rome.
Probably getting close to 20 times I've been. Bernini's sculpture, Michelangelo everywhere, Baroque over the top, beautiful people, the Caravaggio triptych in San Liuigi dei Francesi church, the wonderful food and romantic outdoor meals, Santa Maria in Trestevere, potato pizza with rosemary a taglio (by the slice) from the ladies in cardboard hats, the farmer's market at Campo Fiore, the Jewish ghetto and flattened fried artichokes and baccala to die for.
A friend of mine, Personal Chef Tom Herndon, saw one of my recent episodes and shared memories of a couple of days together when our paths crossed in Roma…
We were lucky to be able to meet John in Rome a couple of years ago. We had the insider's tour. He took us to the oldest church in Rome and then to the Jewish Ghetto for some incredible food, including an impressive deep fried artichoke. He took the entire group of 14 to a lovely cafe in a small square where we ate al fresco, including these bread 'puff balls' as big as a football! Then he showed us the best place to get gelato and chocolate bundino.

He's a true gourmand and a man of passion about Italy. Our time in Rome was truly memorable.
We did have fun together! I love to gather groups and travel to Italy. We rent apartments so that we can get into the local pace of life and do some of our own cooking wherever we are.
Have you ever gone on a food adventure to Italy? If so, please tell me about it in the comments!