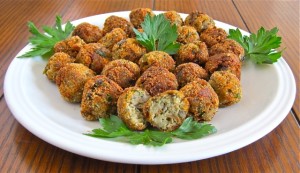 An old woman in a soiled white apron stood at the top of the stairs leading to a basement trattoria a cigarette dangling out of her mouth.
We were wandering around the backstreets in Naples behind the big fancy hotels facing the marina and Castel dell'Ova (The Egg Castle).
We were hungry. It was just after noon. Too early for lunch? I went up to the woman to ask is the restaurant was serving yet.
"We're open. I'm taking a break from frying eggplant meatballs" she said in Italian.
I never had eggplant meatballs (polpette di melanzane) so we had to go in. Were they just eggplant or did they have meat too?
That Neapolitan memory floated into my culinary consciousness this morning so I had to fry up some eggplant meatballs.
There's no meat in this easy recipe. The hardest part is forming the small balls in your hand. Make a big batch for your antipasti course or serve them as a side for roasted or grilled meats or fish.
Pop one of these zesty marble-sized balls in your mouth whole. The crunchy exterior gives way to the soft mellow eggplant center flavored with pecorino and garlic.
You can also fry eggplant meatballs without the breadcrumb coating, add a simple tomato sauce and serve them with pasta. This is a versatile recipe. Make it part of your Italian kitchen repertoire.
Buon appetito!

Eggplant Meatballs
Ingredients
1 eggplant, about 1 pound
1 garlic clove, minced
2 tablespoons fresh flat Italian parsley, minced
¼ cup grated pecorino
1 cup fresh breadcrumbs
1 egg, lightly beaten
sea salt and freshly ground black pepper to taste
fine breadcrumbs for coating
extra virgin olive oil for frying
Instructions
Put on a large pot of salted water to boil.
Cut the eggplant with the skin on into 1-inch cubes.
When the water is boiling put the eggplant in. Press them down once in a while because they like to float on the surface.
Boil them for about 10 minutes until the cubes are tender.
Drain them in a colander and press them down with your hand or wooden spoon to get out more water. You want the eggplant as dry as possible.
While the eggplant is boiling, put the rest of the ingredients (except the olive oil and the breadcrumbs for coating) in a large bowl and mix well.
When the eggplant is cool enough to handle mince it fine.
Add the eggplant to the bowl with the other ingredients and mix everything well.
Roll the eggplant mixture in your hand to form 1-2 inch diameter balls. Lay them out on a plate or baking sheet in a single layer.
Put the breadcrumbs for the coating in a shallow bowl and lightly coat the balls. Put them back on the baking sheet or plate in a single layer.
Heat enough extra virgin olive oil in a saute pan (I use my 9-inch cast iron pan) to a depth of at least ½ inch. You need sufficient oil or the balls won't fry evenly.
Fry the balls until they are golden all over. Turn them gently so they don't break apart. Take them out of the pan and drain them on a plate lined with paper towel.
Serve immediately.
Makes about 2 dozen eggplant meatballs.