Bagna Cauda-A Hot Dipping Sauce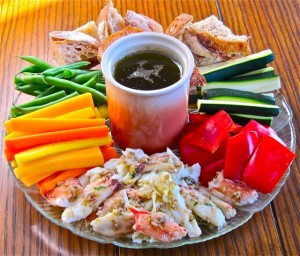 ¾ cup olive oil
2 tablespoons unsalted butter
3 garlic cloves, crushed and then finely chopped
8 anchovy fillets, chopped
1 tablespoon minced flat-leaf parsley, chopped
Put the olive oil and butter In a small sauté pan or small pot over low heat.
Add the butter and olive oil to the pan. When the butter is melted and just starts to foam add the garlic and sauté briefly, until the garlic starts to give off its aroma, about a minute. (Don't allow the garlic to take on any color.)
Add the anchovies to the pan and cook stirring frequently until the anchovies dissolve.
Add the parsley and stir well.
Serve the bagna calda immediately in a small crockery pot or bowl along with the crab, vegetables and bread.
Recipe by
Gianni's North Beach
at http://gianni.tv/start-thanksgiving-dinner-with-crab-vegetables-in-a-hot-bath/