Whole Wheat Spaghetti in an Onion-Anchovy Sauce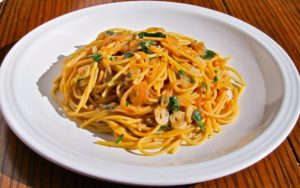 1 pound or 500 grams, imported Italian whole wheat spaghetti or other long pasta
2 yellow onions, halved and then slivered
2 tablespoons extra virgin olive oil
¼ cup sherry vinegar
10 anchovy filets, finely chopped
3 garlic cloves, slivered
3 tablespoons butter
2 cups pasta cooking water
3 tablespoons chopped Italian flat parsley
sea salt and freshly ground black pepper to taste
drizzle of good finishing extra virgin olive oil
Put on 4 quarts of water with 3 tablespoons of sea salt over high heat to boil.
When the water is at a rapid boil add the pasta and stir so the spaghetti strands don't stick together. Cook until very al dente.
In the meantime, place a sauté pan large enough to hold the cooked spaghetti over medium-high heat and add the extra virgin olive oil.
When the oil ripples add the thinly sliced onions, sprinkle the onions with sea salt and cook until translucent and slightly browned.
Add the sherry vinegar and cook until the sauce is slightly reduced.
Remove the onions and sauce to a bowl and set aside.
Reduce the heat to medium-low and melt the butter in the pan.
Add the anchovies and thinly sliced garlic to the pan and cook until the anchovies dissolve and the thinly sliced garlic starts to give off its aroma, about a minute or 2.
Return the carmelized onions and sauce to the pan.
Increase the heat to medium-high, add the pasta water and rapidly simmer until the sauce reduces by about half.
When the pasta is cooked to al dente, using tongs or a spider, add the pasta to the pan. (If you drain the pasta in a colander reserve a cup of the cooking water.)
Add the chopped parsley, sea salt and freshly ground black pepper to taste.
Toss the spaghetti in the sauce. The pasta will absorb some of the sauce as it finishes cooking. (If the spaghetti is too dry add a bit more pasta water and toss again.)
Serve the pasta in warm bowls and lightly drizzle each bowl with a good finishing olive oil.
Recipe by
Gianni's North Beach
at http://gianni.tv/a-whole-wheat-pasta-recipe-youll-love/