Veal Roast with Spinach Stuffing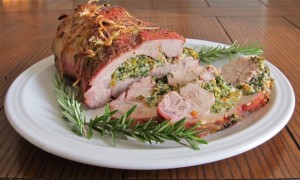 For the Stuffing
1 cup country bread, cut in 1-inch cubes, crusts removed
¾ cup milk
¼ pound pancetta (or mortadella), cut in 1-inch chunks
1 small onion, peeled and quartered
1 carrot, peeled and cut in 1-inch pieces
2 stalks celery , cut in 1-inch pieces
1 garlic clove
2 tablespoons extra-virgin olive oil
¼ cup pine nuts, toasted
3 tablespoons pecorino, finely grated
¼ teaspoon sea salt
⅛ teaspoon freshly ground black pepper
1 egg, beaten with a pinch of salt
1½ cups sauteed fresh spinach, chopped
For the Veal
1 2-pound veal boneless leg of veal roast
1 tablespoon extra-virgin olive oil
1 teaspoon sea salt, or crystal kosher salt
For the Roasting Pan
1 onion, peeled and cut in 1-inch pieces
2 carrots, peeled and cut in 1-inch chunks
2 stalks celery , cut into 1-inch pieces
2 garlic cloves, peeled
1 fresh rosemary branch
2 full stems Italian parsley
¼ cup dried porcini mushrooms, crumbled or chopped in small pieces
1 teaspoon whole black peppercorns
3 tablespoons extra-virgin olive oil
sea salt and freshly ground black pepper to taste
1 cup white wine
2 cups water or vegetable broth
Stuffing
Soak the bread in a small bowl filled with the milk. Toss so the milk absorbs the milk. Set aside.
Put the pancetta, onion, carrot, celery and garlic in the food processor with a steel blade and process them for 30 seconds into fine bits.
Scrape down the sides of the bowl and process briefly until everything is a finely minced.
Pour the olive oil into a 10 or 12-inch skillet over medium-high heat.
When the oil is hot add the contents of processor bowl and sauté over medium-low heat for 3 minutes until the vegetables are tender and the onions translucent.
Squeeze the milk from bread cubes, scatter them over the sauteed vegetables and mix well.
Add the chopped parsley and mix well.
Mix the spinach into the stuffing well and cook the stuffing for a minute more.
Put the stuffing into a bowl to cool.
When the stuffing cool stir in the pine nuts, grated cheese, parsley, salt, pepper, and the beaten egg. Mix the stuffing well and set aside.
The Roast
Pre-heat the oven to 375 degrees.
Soften the porcini in hot water. Remove from the water. Reserve the soaking liquid.
Lay out the boneless leg of veal roast on a work surface, cut side up.
Spread the stuffing evenly over the roast.
Starting with the wider end, roll up the roast tightly. Tie tightly with kitchen twine so the roast stays together while roasting. (I tied it once lengthwise and around the roast close to each end and one more tie in the middle.)
Rub the outside all over with the olive oil.
Sprinkle sea salt and ground black pepper to taste all over the roast.
Spread the rosemary, parsley, onions, carrots, celery, garlic and porcini on the bottom of a roasting pan to form a bed for the roast. Sprinkle with olive oil, sea salt and ground black pepper.
Lay the roast in the middle of the vegetable bed.
Add the water, wine and porcini soaking liquid. (Be careful pouring the soaking liquid so that you leave any sediment behind.)
Cover the roasting pan with aluminum foil and roast for 1 hour.
Uncover the roast and put it back in the oven until the veal is tender has a golden crust.
Remove the roast to a plate to rest.
Pan Gravy
Strain the pan drippings into a small pan.
After it cools, skim off any fat floating on the surface.
Keep warm over a very low flame.
Slice the roast and layer slices on a serving platter.
Moisten with the pan gravy.
Serve immediately.
Recipe by
Gianni's North Beach
at http://gianni.tv/veal-roast-with-spinach-stuffing/