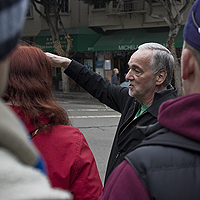 Nuok is an Italian travel, art and food site. A recent post by Alessandra Maffei who lives in Roma celebrates North Beach.
"The air was soft, the stars so fine, the promise of every cobbled alley so great that I thought I was in a dream." is Alessandra's North Beach memory.
Gianni was her online tour guide as she discovered the Italian treasures in our Village. She loved all that North Beach has to offer and here's what she said about Gianni.
Se avete voglia di scoprire dove la gente del posto scova le migliori prelibatezze made in Italy abbiamo un nome per voi: Gianni Mola, chef di origini italiane e profondo conoscitore sia della nostra cucina che dei segreti gastronomici di North Beach, famoso per il suo show online e le sue visite guidate in giro per il quartiere.

Insieme a Gianni scoprirete la focaccia della Liguria Bakery, i cannoli del Cavalli Café e la pizza di Baonecci; comprerete la migliore carne al Little City Market di Stockton Street, per poi recarvi allo Union Street Produce per trovare tutto l'occorrente per cucinare un perfetto piatto italiano.
Oh, don't speak Italian? Here's my attempt to translate for you.
If you want to discover where the locals seek out the best made in Italy delicacies we have ​​a name for you: Gianni Mola, chef and connoisseur of the Italian cuisine that is the secret of our food in North Beach, famous for his show online and his tours around the neighborhood.

Together with Gianni discover the focaccia from Liguria Bakery, cannoli from Cavalli Café and Baonecci's pizza; the best meat you can buy at Little City Market on Stockton Street, before heading to Union Street Produce to find everything you need to cook a perfect Italian dish.
Wow, thanks to the folks at Nuoc. Here's the post with some great North Beach pictures. For those of you fluent in Italian how's my translation?