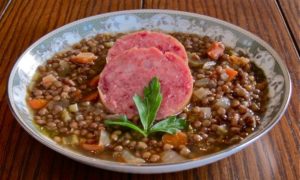 Today, I'm making a traditional New Year's dish, cotechino (a spicy fat boiled sausage from Italia) served over lentils. If you can't get a cotechino you can use any Italian sausage. To poor southern Italians the lentils symbolized all the coins they hoped to amass in the New Year and the sliced sausage medallions represented opulence. A delicious dish and there's no harm hedging your bet for what's to come.
Boil the cotechino or roast other fresh sausages.
Saute some finely chopped garlic and onion, celery, and carrot cut in a small dice in EVOO until the onion is translucent then add the lentils and a bay leaf.
Add water to about 2 inches above the lentils and gently boil until the lentils are tender.
Remove the bay leaf. Season with salt and pepper. Serve the lentils and some of their broth in a bowl, drizzle with some good EVOO and top with slices of the warmed cotechino or roasted sausage.
Happy New Year!