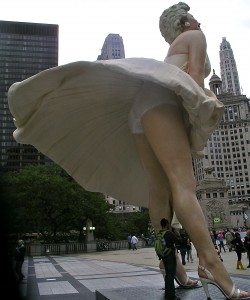 I love the Windy City – the architecture, dozens of distinct neighborhoods with their own character, diverse and friendly people, great cultural institutions, and fantastic food.
I'm in Chicago on business. Surprise – I wanted to visit Little Italy. Guess what? It's hard to find.
Chicago had a vibrant Little Italy on and around Taylor Street southwest of downtown where 100,000 Italian immigrants once lived but it ain't what it used to be. As in other cities this Italian community is all but gone. It was undone in the 1950s when the University of Illinois demolished much of the old neighorhood for a new campus and University Village. Another reminder of how lucky we are to have a still vibrant Italian community in North Beach.
Italian-American friends here don't like my perspective – Little Italy is still there they say and, more importantly, Italian culture pervades Chicagoland. Italian restaurants and markets are spread all around. It's true – a contained Italian diaspora – but the original vibrant core ain't no more.
There are a few bakeries, markets, old-line restaurants and Our Lady of Pompeii Church, but they aren't the big draw – San Francisco's Joe DiMaggio is. They installed a statue of North Beach's favorite son as part of the Italian-American Sports Hall of Fame. Joe never lived here but he's a Little Italy magnet now.
(Sorry for the cheesy underwear picture. Seward Johnson's giant Forever Marilyn arrived on Michigan Avenue near the river a couple of months ago and she's as popular as ever. Most ooglers love to get under Marilyn's skirt and take pix of her panties. You would think that there are plenty of famous Chicagoans worthy of a new statue – but it's Marilyn who is the latest out-of-towner with big crowds.)