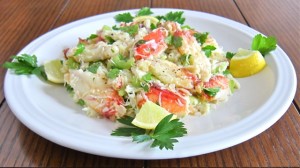 San Franciscans love dungeness crab this time of year. The crabs are big and meaty this season. I'm making a celebratory dungeness salad with celery and shallot, EVOO and Meyer lemon.
The lemon perks up the briny sweetness of the crab bathed in mellow olive oil. The celery and shallot add a background crunch to the crab salad. Simple and sinful.
If your have steamed, cleaned and cracked crab the salad is done in 10 minutes. Use the recipe below and put a celebratory crab salad on your table. Add fried calamari and giardiniera and your antipasti is complete.
Lentil soup with cotechino is a traditional New Year's Eve first course. It brings you good luck in the new year. The dish full of tiny lentils represents the coins you will amass in the new year and the fat boiled sausage your impending opulence.
I wasn't completely satisfied with the New Year's Eve dinner menu I posted the other day. Something was amiss. As often happens I found inspiration in the market.
There it was, a beautiful boneless leg of veal roast sitting in the display case at Little City Meats. The roast with a zesty spinach stuffing will be the anchor of my meal. I'll post this recipe soon.
I'm all set for New Year's Eve dinner at my place. Are you?
Except for the Prosecco, we're drinking some nice California reds.
Buon Capo d'Anno! Happy New Year! Buon appetito!
Gianni's New Year's Eve Dinner Menu
Antipasti
Calimari fritti. Fried calamari served with vinegar pepper confetti.
Fresh dungeness crab salad with celery, shallot, EVOO and fresh Meyer lemon (recipe below).
Giardiniera
Zeppole. (fried savory, light doughnuts with anchovies)
Prosecco, a sparkling dry wine from the Veneto in northern Italia
Primo Piatto
Lentil soup with cotechino
Pinot Noir, Beulieu Vineyard, Carmeros Reserve, Napa, 2007
Secondo Piatto
Leg of Veal Roast with spinach stuffing
Roasted spaghetti squash
Cabernet Sauvignon, Francis Coppola Diamond Collection, Ivory Label, Napa, 2010
Dessert
Sfogliatelle (crispy Neapolitan pastries filled with sweet ricotta)
A sip or two of my homemade limoncello and my strawberry liqueur
Italian still and sparkling bottled waters throughout the meal

Celebration Crab Salad on My New Year's Eve Menu
A fresh clean taste of the sea, dungeness crab salad with shallot and celery,
Ingredients
2 steamed dungeness crab
2 celery stalks
1 shallot
¼ cup EVOO
1 lemon
2 tablespoons chopped fresh Italian flat parsley
Sea salt and freshly ground pepper to taste
Instructions
Steam the crab or buy steamed, cracked crab at the market. (Blue crab or boiled shrimp can be substituted for the dungeness crab.) Put the crab meat in a bowl and set aside.
Clean and crack the crab. Pull out out all of the meat leaving the pieces as intact as possible.
Cut the celery in very thin slices.
Squeeze the lemon juice in a small bowl.
Mince the shallot and add to the lemon juice. Let it sit for 5 minutes to mellow its flavor.
Add the EVOO and whisk well.
Pour the dressing over the crabmeat.
Add salt and freshly ground black pepper to taste.
Roughly chop the parsley and add to the crabmeat. Mix well.
Put the crab salad on a serving dish and serve chilled.
Serves 4-6.