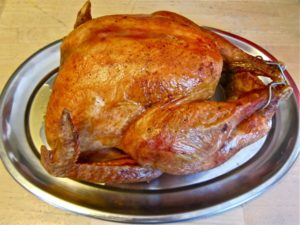 This year I'm making a roasted boneless turkey breast stuffed with spinach and prosciutto. But I'm thinking fondly of my whole succulent roasted turkey and stuffing. Did I make the wrong choice for my Thanksgiving table?
Nope, I've gotten over my ambivalence. I'm sticking with the stuffed turkey breast and roasted garlic & olive oil mashed potatoes. But if you want a whole roasted turkey, with a delicious sausage-chestnut stuffing and classic pan gravy, try my favorite recipes for all three.
The turkey is infused with rosemary, sage, garlic and lemon. The stuffing studded with sausage and chestnuts is a perfect flavorful partner for the moist and tender turkey. The easy pan gravy brings it all together.
Take advantage of that hot oven. Add my easy roasted brussels sprouts and your Thanksgiving plate is complete.
Make up your mind already. Which way will you go this Thanksgiving?
Either way make my pumpkin ricotta cheesecake the day before to top off your holiday festivities.
Buon appetito! Happy Thanksgiving!