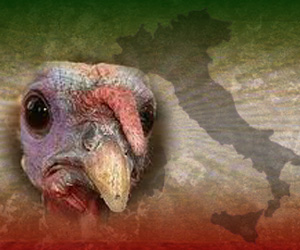 Last Thanksgiving I posted the Italian-American menu for the 4-course Thanksgiving dinner I served at my house in San Francisco. I gave you great wine suggestions for your meal.
This year I'm sharing my recipes for the roasted turkey, chestnut and sausage stuffing and gravy that I'll make with my family in northern Jersey. I love this meal but I only make it once a year so I'm always happy when Thanksgiving rolls around.
The turkey is golden brown and scented with rosemary, sage, lemon and garlic. The chestnut and sausage stuffing has a crispy crust and adds big flavor to your Thanksgiving table. The gravy is scented by the herbs and garlic and ties everything together.
I don't know what vegetables we'll make or what the antipasti or dolce (dessert) courses will be. We'll decide when the family gathers next week. We're very democratic about these things.
I do know one thing. My sister Rose will assemble her famous pedestal fruit bowl to accompany an assortment of roasted nuts to help end our Thanksgiving meal. I know Rose's will be better than the one I made last year. And I know that it will be the centerpiece for our table, has been since we were kids.
I can't wait to see everyone. A bunch of us will hit the markets to get the best ingredients. Six of us spanning 3 generations will be in the kitchen cooking together. Best of all 20 will be at the table for a day of feasting.
Have a great Thanksgiving! Buon appetito!
[amd-recipeseo-recipe:68]
[amd-recipeseo-recipe:69]