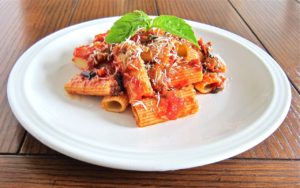 A classic from Catania on the eastern shore of Sicily, this wildly popular pasta took on its name in honor of favorite-son Vincenzo Bellini's opera Norma 180 years ago. You'll find it on menus all over Sicilia now.
A couple of you asked about this dish so I thought I'd make it. It's almost 2 years since my last exquisite week in Sicilia and I'm in the mood for a taste memory of that beautiful island.
The shiny black-purple eggplant in the market are superb. Get the firm small to medium ones. They don't have many seeds. Even though it's July we won't have good local Bay Area tomatoes for about 6 weeks, so I used imported San Marzano tomatoes from Campania.
My Rigatoni alla Norma is inspired by my Catania cousins-in-law. The creamy tomato-eggplant sauce coats each fat pasta tube. The grated salty ricotta salata (dried ricotta cheese) sprinkled on top balances the sweetness of the sauce. Celebrate summer with this easy 2-step recipe. It brought me back to the heat and sun of Sicily's Ionian coast eating Pasta alla Norma al fresco with a glass of Nero d'Avola wine.
If you're enjoying a summer bounty of local tomatoes at the height of flavor here's my fresh San Marzano tomato sauce video. San Marzano tomatoes are best but you can use local Roma or other tomato varieties to make a great sauce in place of one made with imported canned San Marzano tomatoes.
Buon appetito!
[amd-recipeseo-recipe:96]