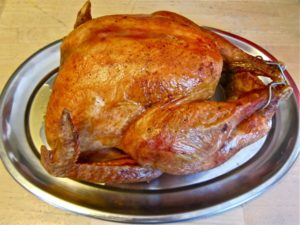 Still undecided about your Thanksgiving dinner?
Try my recipes for Roasted Turkey scented with rosemary, sage, lemon and garlic, chestnut/sausage stuffing and easy pan gravy.
While the oven is hot, add brussels sprouts roasted with pine nuts and parmigiano and butternut squash roasted with honey and sage. Just add your favorite appetizers, dessert and wines for a delicious Thanksgiving meal.
How easy is that? No slaving over pots and pans on top of the stove, everything just roasts in the oven. Make the easy pan gravy while the turkey rests on the counter before carving. Spend less time in the kitchen and more time with your friends and family around the Thanksgiving table.
There are lots of other vegetable recipes on my blog and you can get my free vegetable eBook recipes there too.
Happy Thanksgiving! Buon appetito!