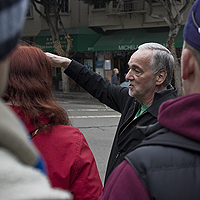 Fans who took my tour a few months ago called to see if I would do a tour of North Beach for out-of-town guests this Saturday, April 28 at 11:00 a.m.
Do you want to join us?
Get to know my my favorite restaurants, bakeries, food shops, art galleries and North Beach history as we take a 90-minute stroll through the Village on a delightful spring day. We'll eat together at one of my favorite caffes.  Enjoy antipasti, focaccia and a sampler of 3 Tuscan pastas with a glass of a special Chianti. Then we'll head to another nearby caffe for espresso and the best cannoli or tiramisu in North Beach, your choice.
Tour with food–$50 per person. Tour without food–$25 per person. You can pay by cash or check at the start of the tour.
Just send me an email and I'll save a spot for you or your group and I'll let you know where to meet up. http://gianni.tv/about/contact-gianni/
Space is limited so sign up soon.