The other night my Emerald Tablet friends and I put together a tasty family-style dinner at North Beach's Vicoletto, the Calabrian restaurant on Green.  We were talking about a Gianni's North Beach cooking demonstration and tasting at their gallery and creative learning space. They don't have a full kitchen so it would be a challenge.
Then it hit me. When I'm in Bologna I always stop at least once in at an enoteca (wine bar} for a plate of assorted Italian cured meats and cheeses. Your group huddles around a high table and nibbles on a plate full of distinctive tastes and textures. I pair Prosecco or a sparkling rose with this spuntino (little snack) that will tide us over until dinner much later in the evening.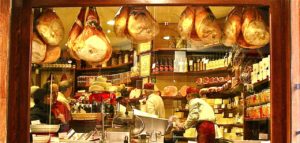 We decided it would be fun to make believe we're in Emilia-Romagna. We could host a salumi and cheese tasting with wine pairings at the gallery. I'll source all of the meats, cheeses and wines right here in North Beach and demonstrate how to make some of my antipasti treats.
I'm excited about Bay Area artisan salumi and cheeses. We'll taste the best of Italia and America. Will the local products stand up to their Italian cousins? Gianni's North Beach most popular antipasti treats–vinegar peppers, giardiniera, and celery mostarda (chutney) pictured above–or other Gianni goodies will be on the antipasti platter. Maybe I'll make my toy-box tomato focaccia too.
Learn where to buy the best in the Village. See how easy it is to put together a spectacular antipasti platter at home for a cocktail party or as the first-course for a home-cooked meal. Watch me make a few of my most popular antipasti dishes and take some with you to enjoy at home. Once you've tasted them, with my easy recipes you'll be able to make them for yourself.
Let me know if this is an event that you'd attend. If there's enough interest we'll set a date at North Beach's Emerald Tablet. As a bonus you'll see the restored Song of Pulcinella mural there.