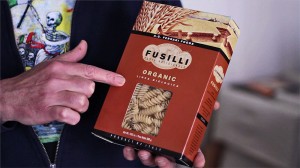 Recently, my doctor said I should eat more whole wheat pasta. I told her, "Doc, only with certain sauces!"  
Some sauces call for a fresh pasta and some for a dried pasta. Most dried pasta is a durum wheat or semolina pasta. The best is from Italy. It is extruded through a bronze die and the surface of the pasta has a rough feel (la lingue di gatto, like a cat's tongue) so that more sauce is absorbed. (One of my favorites is Strozzapreti.)
I just heard about one producer in Campania that threw out the bronze dies and bought gold dies that make an even rougher surface. They won't say how much that cost.
Slow drying is the other important step in making quality dried pasta. Many large volume Italian producers and most American pasta producers use a telflon extrusion die and a fast drying method, so the pasta doesn't absorb the sauce as well. You see in my demonstrations that I always finish cooking dried pasta in the sauce pan. This is where the pasta absorbs the sauce and where the sauce clings to the pasta's rough exterior.
Organic bronze die durum wheat from Campania may cost $7. But it's worth the money because the pasta is the star of the dish. In fact, in Italy they refer to pasta sauces as condimenti, mere condiments. You should always taste the nutty flavor of the durum wheat pasta through the flavor of the sauce and grated cheese. A 500 gram box will feed 4, at minimum. You do the math – it's still a very economical dish and it's delicious.
I recommend shopping for pasta at A.G. Ferrari stores if you're in the Bay Area. You can also order from anywhere online.