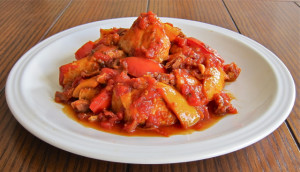 I'm hosting an informal Easter dinner next Sunday. Some of the friends at the table will be with me in Rome and Naples in a few weeks so I'm serving dishes from those 2 cities.
We'll start with a savory deep-dish pie, Pizza Rustica filled with ricotta, mozzarella and salumi and a deep-dish ricotta with candied citrus peel pie, Pastiera Napoletana, will be the sweet ending to our meal.
Chicken Roman-Style with red and yellow peppers in a sweet tomato sauce with prosciutto bits will be the piatto secondo, the main course.
Pollo alla Romana con i peperoni is a simple recipe that is ready in about 30 minutes. I used boneless, skinless chicken breast but you can use any chicken parts that please you. If you have more cook time, bone-in pieces will add even more flavor to the dish.
The cooking method used here, insaporire, to develop flavor, is a classic Italian technique. Cook the chicken and peppers separately to develop their full flavors. Then combine them together at the end so that the ingredients absorb flavor from each other and the dish develops distinctive, yet complex flavors.
The chicken is infused with the soft sweetness of the peppers, the salty prosciutto and chunky San Marzano tomato sauce. A perfect flavor balance.
Serve some polenta or rice on the side to absorb the sauce and you have lunch or dinner on one plate.
Watch me making the Neapolitan savory and sweet Easter Pies. Make them for your spring celebration.
Buon appetito!

Chicken Roman Style with Peppers
A one-pan chicken dish with peppers bathed in a sweet tomato sauce that is ready in about 30 minutes.
Ingredients
1 pound boneless, skinless chicken breast (or your favorite chicken parts. You can use a whole, chicken cut into 8 pieces if you want.)
1 red bell pepper, seeded and cut lengthwise into 1-inch wide and 2-inch long strips
1 yellow bell pepper, seeded and cut lengthwise into 1-inch wide and 2-inch long strips
4 tablespoons extra virgin olive oil
2 ounces prosciutto, coarsely chopped
2 garlic cloves, smashed
1 tablespoon chopped fresh marjoram or oregano
½ cup dry white wine
1 can (14 ounces) imported San Marzano tomatoes, crushed by hand or coarsely chopped
sea salt and freshly ground black pepper to taste
Instructions
Cut the chicken breast into 4 or 5 pieces of equal size.
Put 2 tablespoons of olive oil in a saute pan large enough to hold all the chicken over medium-high heat.
Add the smashed garlic and cook for about a minute.
Add the chicken and brown on all sides, about 10 minutes (15 minutes if your using chicken parts.)
Add salt and pepper to taste.
Remove the chicken and garlic to a bowl and set aside.
Add the last 2 tablespoons of olive and oil to the pan.
Add the prosciutto and 1 smashed garlic clove and cook for 1 minute.
Add the pepper strips and cook until tender, about 5 minutes.
Add the marjoram or oregano, sea salt and pepper to taste.
Return the chicken and any juices that collected on the plate to the pan and mix everything together well.
Add the wine and deglaze the pan, scraping up all the brown bits on the bottom of the pan.
Cook, stirring occasionally, until the wine mostly evaporates.
Add the tomatoes and their juices. Stir well and bring to a rapid simmer.
Reduce the heat to medium and simmer for about 10 minutes, stirring occasionally.
Put the chicken and peppers on a platter and serve immediately.