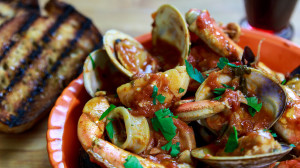 Don't miss the next new video recipe. Please subscribe now to my YouTube channel.
So how did I choose to do a recipe for the traditional San Francisco Cioppino stew for this Christmas Eve video?
We wanted to do a new episode for the traditional southern Italian Christmas Eve Seven Fish Dinner. I didn't have time to cook seven separate fish dishes because I was hosting a holiday dinner for my office-mates the afternoon of the shoot.
I mentioned my dilemma when preparing Thanksgiving dinner with the Virginia branch of the family. "We were lazy last year," my nephew confessed. "We just made a 7-fish cioppino."
Problem solved. Cioppino, the famous fish stew invented down on Fisherman's Wharf by the immigrant fishermen from Liguria and Sicily is just the quick and easy dish I need for a busy day in the kitchen with the cameras rolling.
The local tale is that when the boats were all in a big cauldron was put over a fire to cook the tomato broth. After selling their catch, the fisherman one by one would bring whatever fish were leftover on their boat. They "chipped in" and the dish they all shared on the wharf got its name. More likely the name is derived from the classic Ligurian dialect for the fish stew found around Genoa,  "ciuppin".
This is an easy no mess recipe. Everything cooks in one pot. You can have cioppino on your table in way less than an hour. The briny seafood swims in a sweet rich San Marzano tomato bath. My favorite bite is dunking my garlic bread in the brothy sea-scented sauce.
Make sure you have plenty of napkins for your guests. You will get a little messy eating the crab and shrimp still in the shell.
If you want to make cioppino easier to eat take all of the fish out of the shells before serving. I like it best the messy way. I just love to scoop up some broth in each mussel and clam shell "spoon". Any leftovers make a fabulous sauce for linguine.
If you want to cook 7 different fish dishes for your Christmas Eve dinner make some of my favorites. Choose from 11 fish recipes.
How about a luscious pork roast for Christmas or New Year's dinner? I made it for my office holiday gathering. The butterflied loin is smathered with a rosemary and sage paste that infuses its flavor into the mellow pork while roasting in the oven.
I served the porchetta with potatoes roasted with rosemary and sea salt and finished with a drizzle of truffle oil and broccoli rabe sautéed in garlic-infused olive oil.
Make this fabulous porchetta dinner for your friends and family this holiday season.
Buon appetito! Happy Holidays! Treasure your time with family and friends at your table.

Cioppino Recipe: A San Francisco Treat for Christmas Eve
Cioppino is the classic San Francisco fish stew invented by Italian fisherman immigrants when the boats came in for the day. An easy and delicious dish for a very special meal.
Ingredients
1 steamed dungeness crab, cleaned and cracked
6 mussels, scrubbed and debearded
6 clams, scrubbed
6 prawns or shrimp in the shell
6 scallops
½ pound calamari
½ pound halibut or your favorite firm-flesh fish (sorry I called it haddock in the video)
3 tablespoons EVOO, plus some to drizzle on top before serving
1 small onion, halved and cut in thirds
2 garlic cloves, crushed
1 small red bell pepper, cut in 2-inch pieces
half a fennel bulb, cut in thirds
½ teaspoon red pepper flakes
2 bay leaves
28 ounces San Marzano tomatoes, crushed well by hand or pureed
2 big sprigs of basil
2 sprigs of Italian flat parsley, plus some chopped to sprinkle on top before serving
1 teaspoon dried oregano
sea salt and freshly ground black pepper to taste
(slices of sourdough bread to grill, optional)
(1/2 cup of polenta to feed the clams & mussels, optional)
Instructions
Put the mussels and clams in a big bowl of cold salted water and top with a ¼ cup of polenta.
Let sit for 30 minutes stirring once in a while to distribute the polenta over the shellfish. The clams and mussels eat the polenta and any sand inside the shell will be expelled.
(Simple bread rubbed with garlic is a must have when you're eating the cioppino. Slice sour dough bread and toast 1 or 2 slices per person in a grill pan. Put some weight on the slices to ensure they get grill marks. Toast the other side. Rub with garlic and sprinkle with EVOO. Set aside.)
Take the clams and mussels out of the polenta bath and wash them well. Debeard the mussels if necessary. Set aside.
Leave the prawns in the shell. Cut down the middle of the back and remove the dark vein. Set the prawns aside.
Cut the calamari tubes into one inch bands. If the tentacles are very large cut them in half.
Leave the fish fillet whole.
Put the EVOO and garlic in a large enamel pot over medium-high heat.
Toss the garlic in the oil to release its flavor but don't let it take on any color, about 1 minute.
Add the onions, fennel, red bell pepper, bay leaf and red pepper flakes to the pot. Add sea salt and black pepper to taste.
Saute over medium-high heat until the onions are translucent, about 2 minutes.
Over medium-high heat add the tomatoes and stir well.
Add the basil, parsley and oregano.
Cook the sauce until you reach the desired thickness. The volume should reduce by a third.
First add the clams and mussels to the pot and give them a 2-minute head start.
Next add the fish fillet, scallops, shrimp, calamari and prawns. Cover the pot and let it rapidly simmer for about 5 minutes.
Then add the steamed crab and give the pot a good stir.
Cook until the mussels and clams open, about another 4 minutes or so. Discard any mussels or clams that do not open.
Put the cioppino in a large serving bowl.
Top with chopped parsley and a sprinkle of a good finishing olive oil.
Serve immediately with the grilled garlic sour dough bread to dunk in the sauce.
Serves 4-6