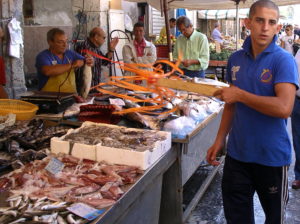 I'll be with family and friends for Christmas. Our Neapolitan family tradition is to prepare a 7-fish Christmas Eve dinner, La Festa dei Sette Pesci.
Seven fish unless I'm with the Sicilian branch of the family, then it's 13!
I hope you will be with the ones you love too.
Here's a collection of my fish dishes that you can make for all your friends and family around your Christmas Eve dinner table to enjoy.
Buon Natale! Happy Holidays!
All in One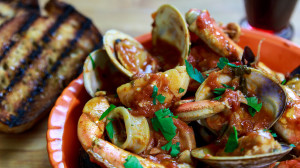 If you want all 7 fish in one pot make cioppino, the San Francisco fish stew treat.
This is my go-to recipe if I want to make something fast and easy for the guests around my table. All 7 fish are cooked in one pot. A hunk of grilled bread scraped with garlic and you're good to go.
The hardest part of cioppino is the trip to your fishmonger. You can have cioppino on your table in about 30 minutes.
Antipasto Picks
If a 3 or 4-course feast is what you have in mind make these dishes for an antipasto course, many ready in less than a half-hour.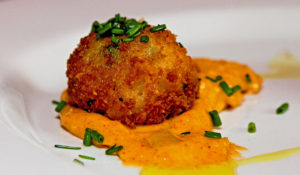 Arancini, everybody loves rice balls. They are a perennial favorite at my table.
They come in many different shapes with various fillings.
This version is from my friends at North Beach's da Flora restaurant.
The arborio rice has shrimp hidden in the middle of the crispy orb. Eat these arancini with or without the aioli. But if you don't make the dipping sauce you'll be missing a real treat.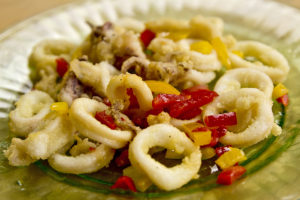 You gotta be careful with this one. Often my fried calamari never makes it to the table. Everyone gathers in the kitchen around the stove and grabs a tender fried ring or crunchy tentacle as soon as they come out of the hot oil. If that happens to you make sure you quickly sprinkle some sea salt on the calamari as they drain on paper towel.
If the fried calamari survive poaching in the kitchen make sure that you get them to the table while they are hot out of the oil. That's the way to maximize your enjoyment.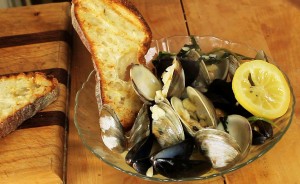 How about some steamed mussels & clams ready in about 10 minutes?
Be sure to pick out the heavy clams & mussels with tightly closed shells.
This is a quick dish. The hardest part is scrubbing the shells prior to cooking.
You can serve up a big bowl and let your guests help themselves.
Just make sure that everyone gets at least one slice of the grilled bread. Dunking the bread in the sauce is my favorite bite.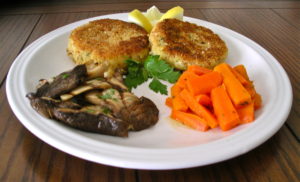 My Mom made her fish cakes with baccala. If you don't have time to soak dried salted cod for 3 days use fresh cod or halibut.
You can make the fish cakes ahead of time and heat them in the oven just before serving.
A bonus with the fish cakes, a recipe for grilled trumpet mushrooms and another for pickled carrots.
Mussels with a spicy tomato sauce is a real crowd-pleaser. This is my Dad's recipe.
Some of my nephews insist that I make these mussels any time we're together. My Dad always made them when they visited.
That was nearly a half-century ago. It warms my heart that I can revive those moments gone by.
Be sure to have extra twice-baked bread. Everyone wants more than one piece.
Primo Piatto (The First Course)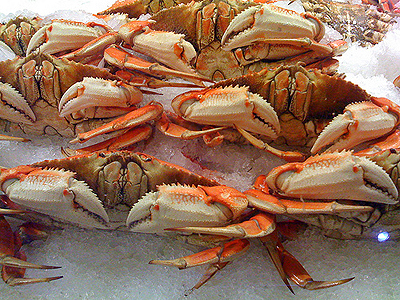 It's crab season in San Francisco. Dungeness crabs are always an important part of our holiday meal in the Bay Area.
They're big and tender this year and the price isn't bad either. Use your favorite crab if you can't get dungeness.
Here's a recipe with a spicy tomato sauce that doesn't overwhelm the sweet tender Dungeness crab. A marriage made in heaven.
Spaghetti with onions and anchovies is a simple dish that packs intense flavor in every bite.
The nutty flavor of the whole wheat pasta really takes this dish over the top.
Be sure you get a quality imported Italian whole wheat spaghetti or other long pasta for this dish.
With a few ingredients the pasta has to be the star. No mushy hippie whole wheat pasta will do.
Strozzapreti and prawns in a roasted red bell pepper sauce is beautiful to behold and an elegant addition to your holiday table.
Roast the peppers ahead to save you some cooking time on Christmas Eve.
You can make it in the time that it takes to cook the pasta.
Another quick preparation for a busy night, spaghetti with clams.
A Neapolitan favorite, you can't go wrong with this pasta.
Long strands of spaghetti with clams in a spicy garlic sauce. It's a little bit of heaven.
Put on a big pot of well-salted water to boil. Steam the clams in the spicy broth while the pasta is cooking.
The clams will have opened and the sauce will be waiting as you pull the spaghetti out of the boiling water to finish cooking in the clam sauce.
Secondo Piatto (Main Course)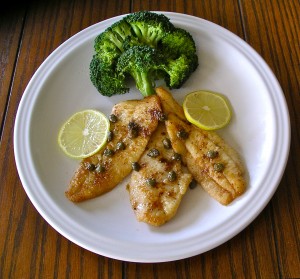 Sole is one of my favorite fish.
It's easy to work with and has a delicate flavor.
Sole with capers is really easy. Saute the filets and make the sauce right in the same pan.
The delicate Petrale sole has a crispy crust with a moist flaky interior.
The capers perk up the sole. The light buttery sauce ties it all together.
Nothing easier and tastier than quick-cooked shrimp.
Shrimp on the east coast, prawns here in the Bay Area.
The hardest part of this recipe is cleaning the shrimp.
Once that's done the shrimp are ready in less than 10 minutes.
I take that back, the hardest part of this recipe is not eating them all up as they drain on paper towel.
To augment your main course choose from my collection of vegetable side dishes on my website or those in my Vegetable Recipes eBook. It's my holiday gift.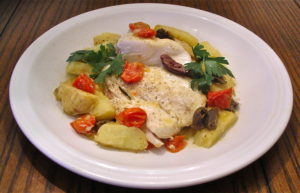 But if you want your fish, veggies and starch all in one go make my halibut roasted in parchment is the one for you.
Use halibut, cod or your favorite fish.
The halibut is wrapped in parchment or foil with the potatoes, tomatoes and olives so you get it all.
Drizzle some olive oil and dry white wine over the fish and vegetables and when you open the pouch you have a  complete plate for your table. Quick, easy and oh so flavorful.
Dolci
For these holiday meals we often buy some of our favorite pastries to end the meal. If you have the time make cannoli.
But if you want something homemade and light make strufoli, little fried dough balls in a honey glaze sprinkled with colorful holiday confetti. Another traditional sweet is to end your meal on a traditional holiday note is cenci, those delicate bow-ties. Be careful, the powdered sugar doesn't get on you.
Buon Natale! Buon Appetito!